Brick Curtain House_Nidhi / Design Work Group
Brick Curtain House_Nidhi / Design Work Group
Description
This Residence the architectural space we are calling it a "Brick curtain House". It is a functional environment where our client carry part of their life. Climate-Context and Client's brief were major driving forces for the accomplishment of this project.

The site is a part of Residential society a corner plot approached from road on the west edge. The layout was organized such that the private zones were at the inner side and public zone in the front facilitated by a centralized connecting services. On the ground, the front occupies parking while the rear consists of servant room and a multi-purpose hall that connects with the outdoor Garden.

In the habitable spaces above, Private spaces like kitchen, dining and bedroom are accommodated at the inner side of the house while the front portion serves the client interactive nature and hence contains Semi- Open Spaces on both the sides that helps connection with the neighbors with a double height Living area in the center. Within the centralized connecting spaces lies the prayer area which can be looked up to from the 2nd and 3rd floor.

Further, on the third floor, the Home Office is at front merging with the terrace garden on the sides.
The spatial Organization brought with it the biggest climatic challenge the front facade with large surface areas stood exposed to the West side intensifying the heat gain throughout the day. To reduce heat, gain various explorations were done after understanding the architectural elements of hot climatic region. The analysis led us to select BRICK - a module that is raw and natural just as the client, and could help create projections reducing the heating effect.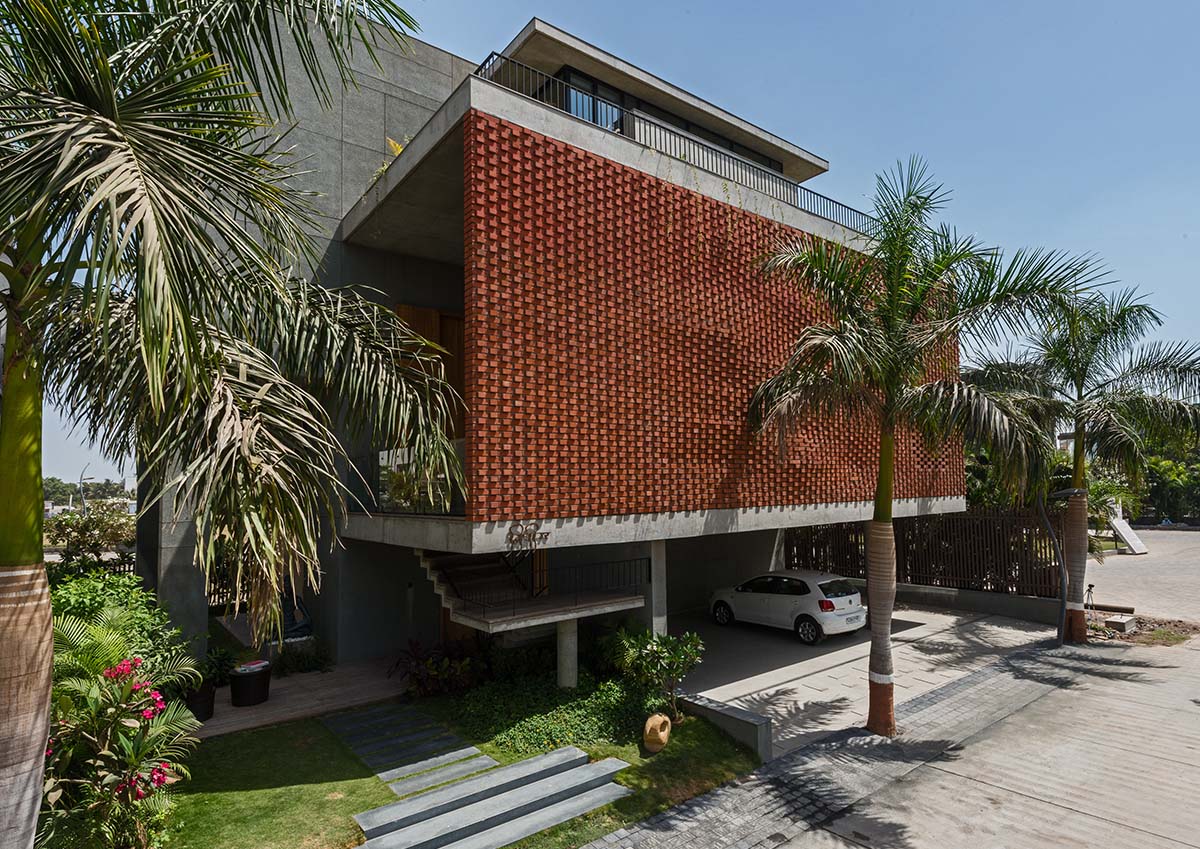 Facade
A brick façade with bulges protruding in and out was selected. As the façade majorly needs to shade the central indoor environment the two ends are straight without bulges, giving the undulations in the center a firm hold. The central portion was divided in three parts each having 3 bulges in a series. To structurally hold the huge façade of 83 layers, vertical and horizontal reinforcement was added.

The chosen form served dually:
1. Individually the brick module shaded itself.
2. Convex bulges in the wall would shade its lower concave bulges, doing the same shading thing at larger level.
The house is a perfect epitome of how a plane curtains itself. It stands out and connects to surroundings – both at the same time! The brick façade provides an ideal backdrop for the living area and major interaction spaces aesthetically adding simplicity and integrity to the design.
Overall the expression of house is response to client's affinity for nature. It's an outcome of seeking sustainable and functional amalgamation for the living environment.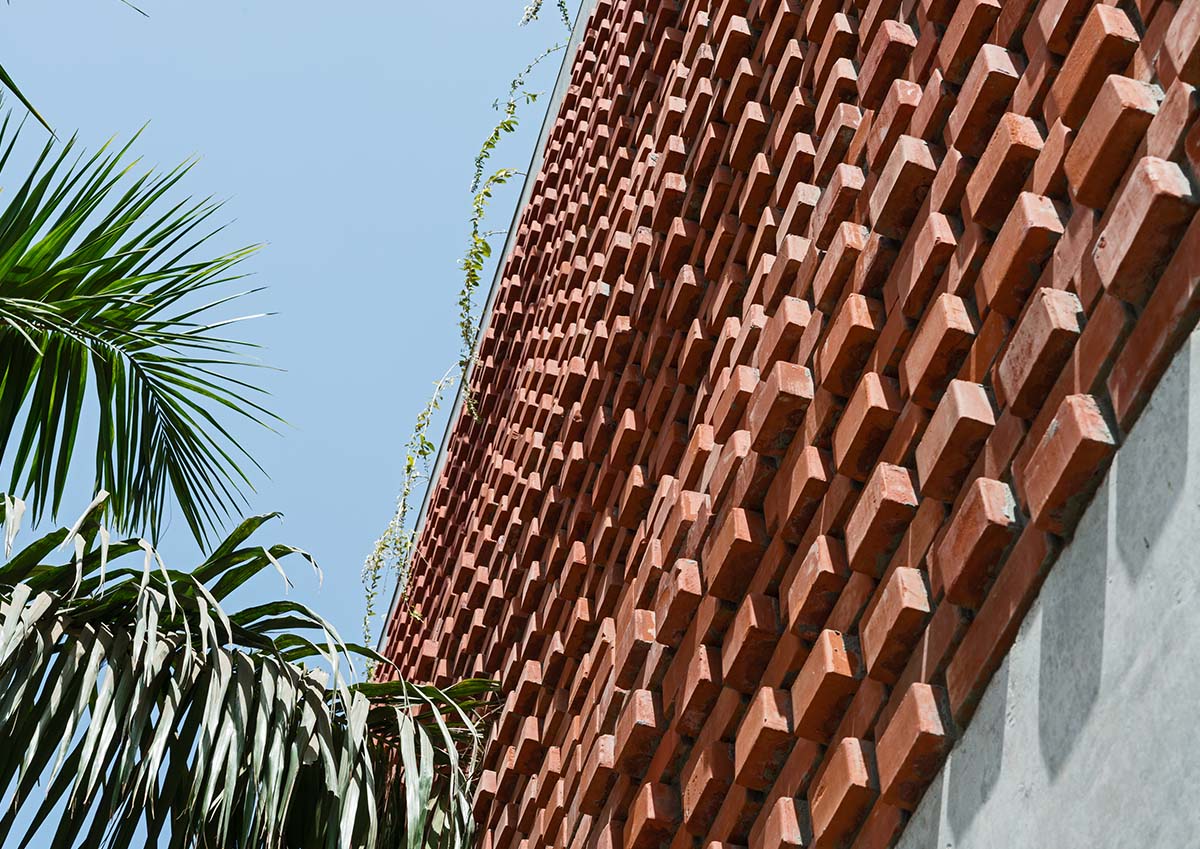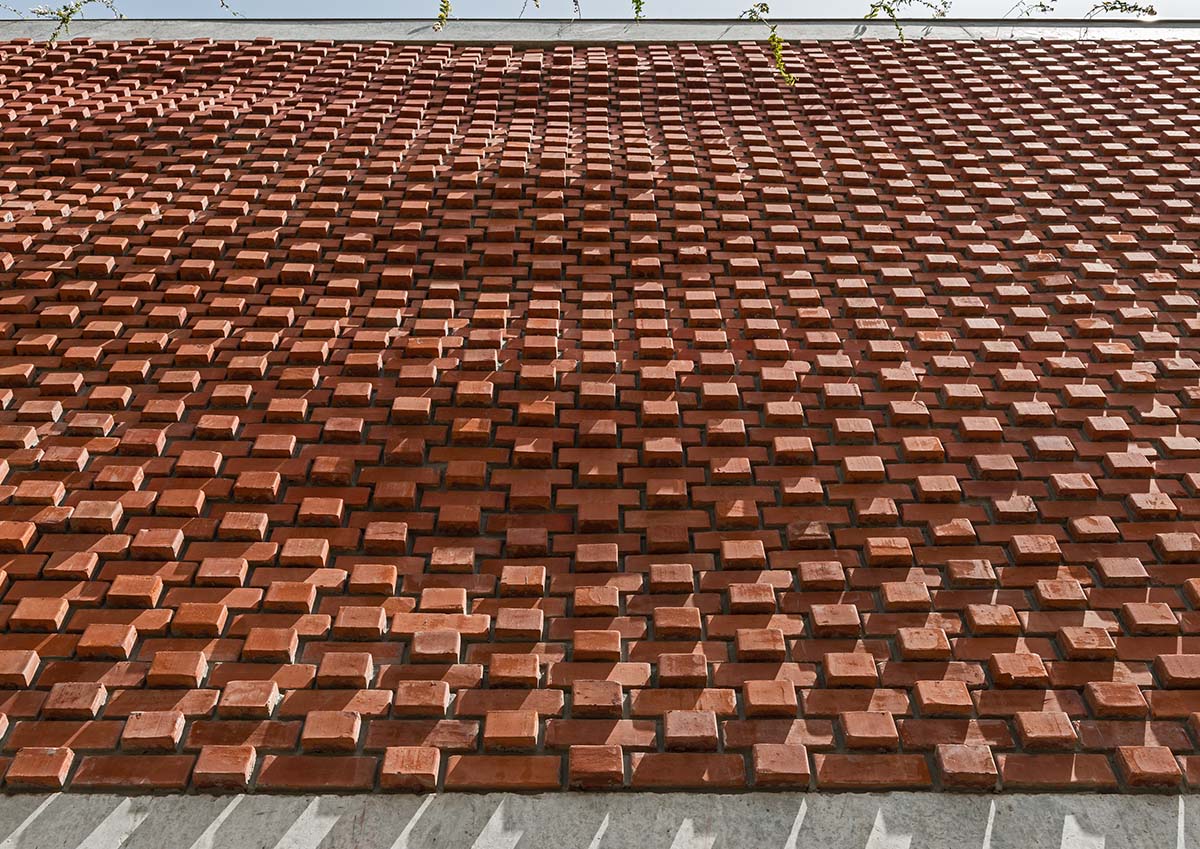 Extra info
| | |
| --- | --- |
| Design team: | Dinesh Suthar, Bharat Patel, Jitendra Sabalpara, Sonakshi Berlia, Bhavika Suthar, Vishakha Jain, Ankit Sojitra, Chirag Katrodiya |
| Completion Year: | March 2016 |
| Gross Built Area: | 810m² |
| Photo credits: | phxindia – Sebastian Zachariah , Ira Gosalia |
| Client: | Mr. Kanjibhai Bhalala |
| Brick Façade: | Mithun Vishvak and team |
| Structure: | Angle Consultancy |
| Contractor: | Mr. Himmat Patel |
| Carpenter: | Mr. Sureshbhai Suthar |
| Electrician: | Leo Electrical |
| Stone work: | Mr. Praveen Tank |
| Paint work: | Mr. Guddubhai |
| Windows: | Dream Home Element |
| Exterior stone chip plaster: | Mr. Kesari Singh |
| Modular Kitchen: | Ottimo Agency |