City Archive Delft / Office Winhov in collaboration with Gottlieb Paludan Architects
City Archive Delft / Office Winhov in collaboration with Gottlieb Paludan Architects
Description
The Delft Archive is an important building for the city. It is the place to store and access the history of this old city; it is a treasure room, study room and time machine in one. The new archive building is situated at the closing head of a narrow park that connects the site to the historic centre of Delft.
The building has a compact organisation with offices, workshops and reading rooms at ground floor and the archive depots in the floors above. The efficient layout allows for flexible use whilst supporting the sustainability of the building.
The public reading rooms are situated along the entire facade facing the park and form the welcoming address of the building. The brick facade expresses the timeless and robust character of the building with storage as its main purpose.
The rich relief in the facade connects the building to the elaborated tradition of brick buildings in Delft. The white concrete plinth clearly refers to the image of the public buildings in the historic centre of the city.
Why brick
The use of brick is a direct reference to the rich tradition of the material in the historic city center of Delft. The abstract expression of the brickwork evokes the association with the artwork of Jan Schoonhoven - one of the most important artists from Delft - while at the same time playing with the proportion of the building.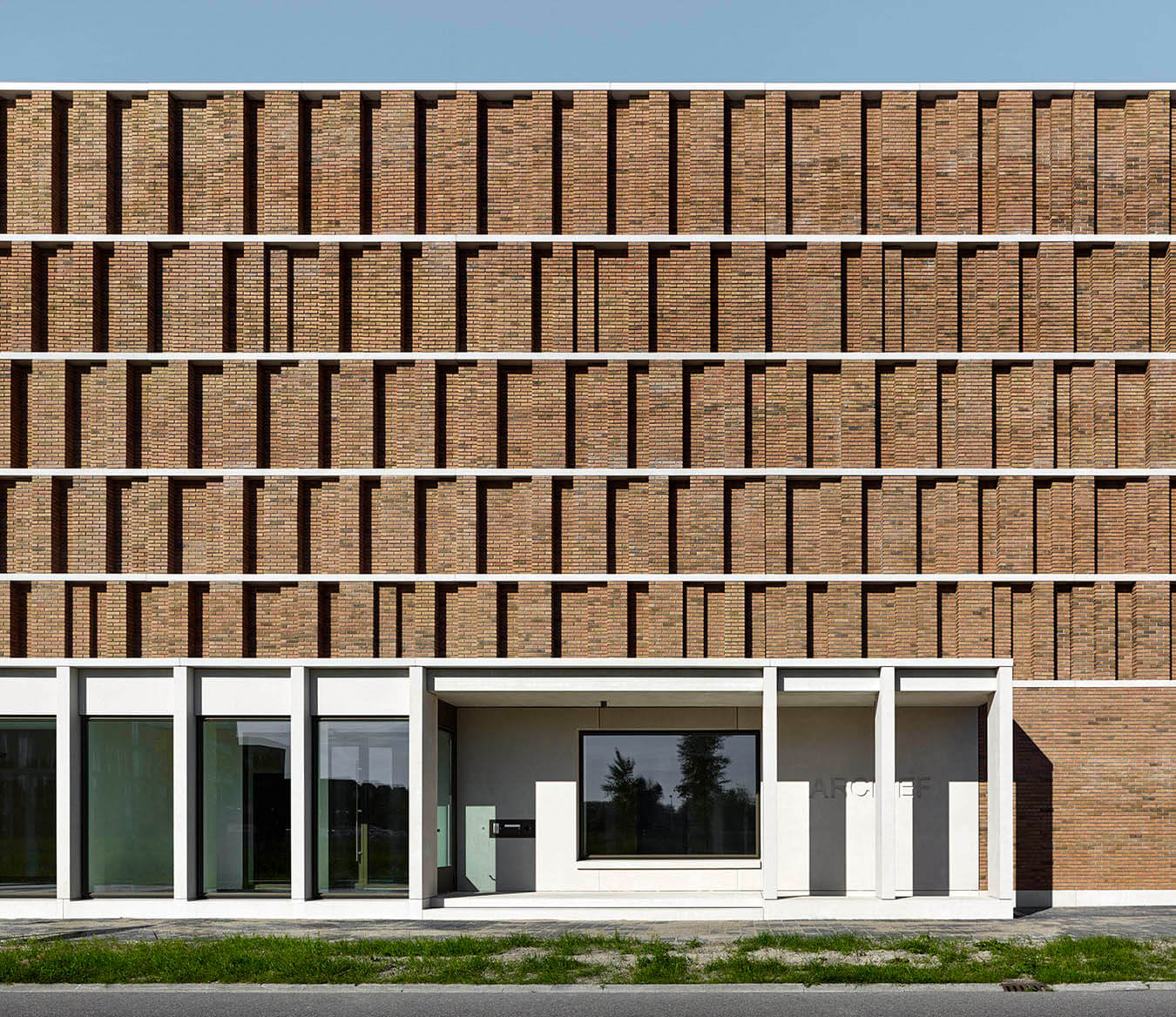 Extra Info
| | |
| --- | --- |
| Client: | City of Delft |
| Engineering: | Adviesbureau Strackee |
| Installations: | Spark I.D. |
| Building costs: | Archisupport |
| Acoustics: | DPA Cauberg en Huygen, Amsterdam |
| Fire prevention: | DPA Cauberg en Huygen, Amsterdam |
| Contractor: | Bouwbedrijf Hegeman |
| Gross floor area: | 2.036 m² |
| Floor area: | 1.707 m |
| Gross volume: | 9.104 m |
| Construction costs: | 2.750.000,- |
| Program: | Archival Repositories, public reading room, offices and workspaces |
| Architecture: | Office Winhov in collaboration with Gottlieb Paludan Architects |
| Design team: | Mathijs Boersma, Thomas Bonde Hansen (GPA), Uri Gilad, Jesper Gottlieb (GPA), Joost Hovenier, Freddy Koelemeijer, Pascal Köllmann, Jan Loerakker (GPA), Jan Peter Wingender |
| Preliminary design: | 06-2014 |
| Definitive design: | 11-2014 |
| Start construction: | 05-2016 |
| Completed: | 09-2017 |