Clapham House / MW Architects Ltd
Clapham House / MW Architects Ltd
Description
This is a dramatic transformation of a small, semi-detached Victorian house. Despite being arranged over three floors, it was so shallow in depth that the proportions were cottage like.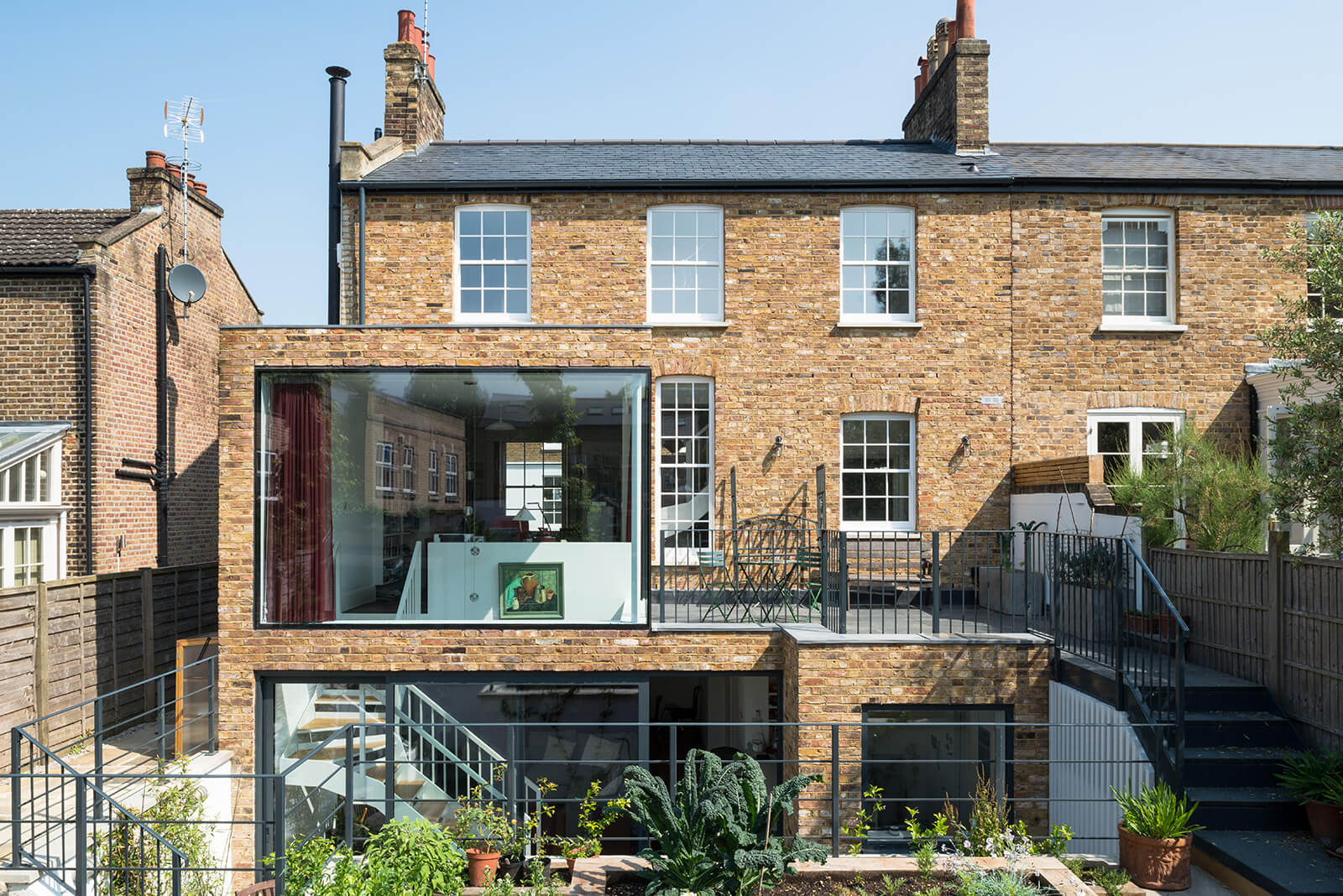 We dropped the floor at lower ground level, and excavated a substantial portion of the garden to make space for a two-storey extension. The existing rear wall was flattened off and rebuilt in traditional London stock brick, in contrast with the contemporary glazing.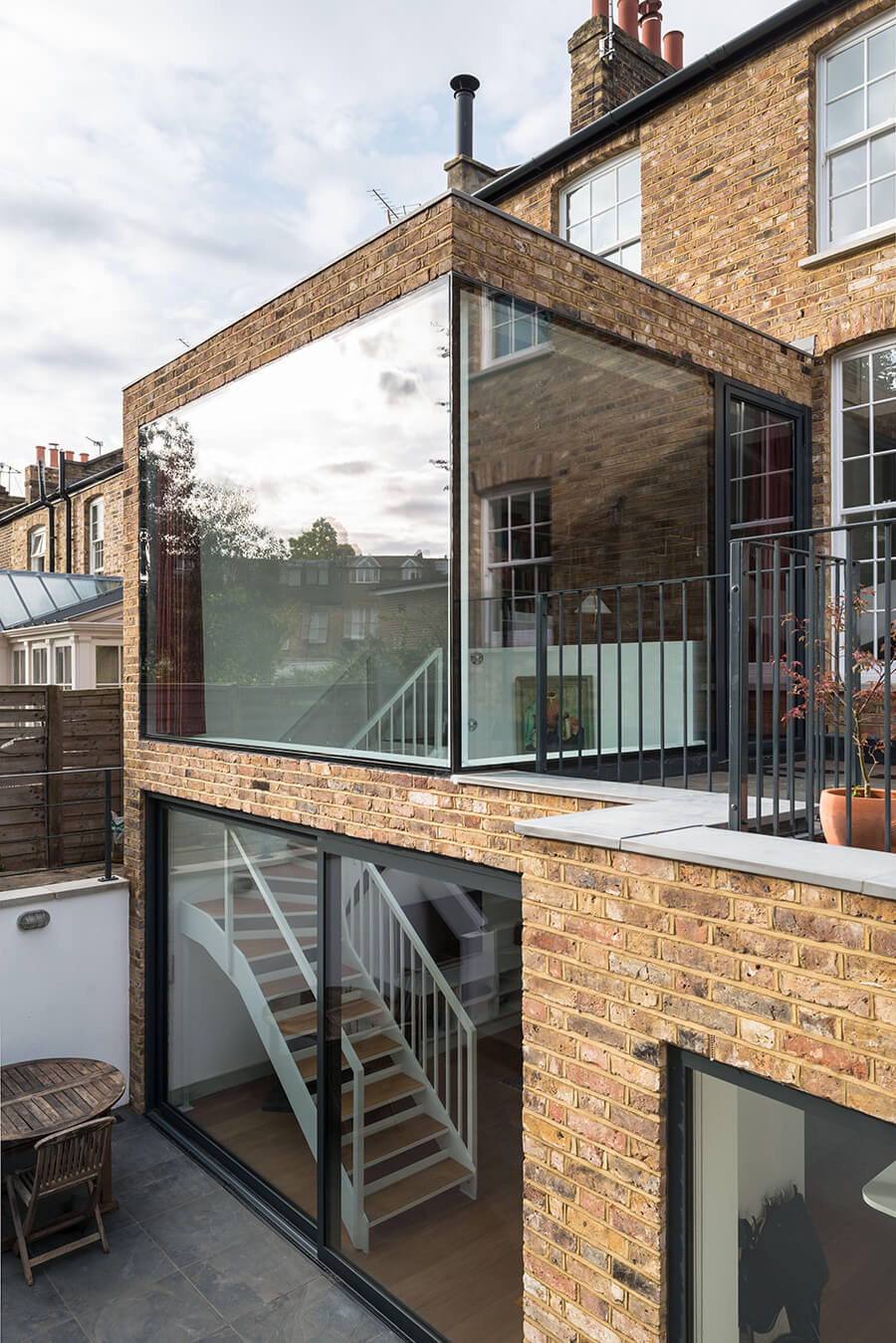 Why brick
This project was a complete transformation of an ageing Victorian property. The rear elevation in particular had suffered years of neglect (see before image below) and had had layers of render and paint installed over the original brickwork. We aimed to reinstate the beauty of the rear facade and to match it to the neighbouring properties (two pairs of these houses stand next to each other) and for that the brick selection had to be Reclaimed Yellow London Stock Bricks to ensure the best match to the neighbours as well as to reinstate the grandeur of the rear elevation. The entire rear elevation was deconstructed and rebuilt to exactly match where parts were reinstated and the additional windows / projections were constructed to match for a continuous materiality.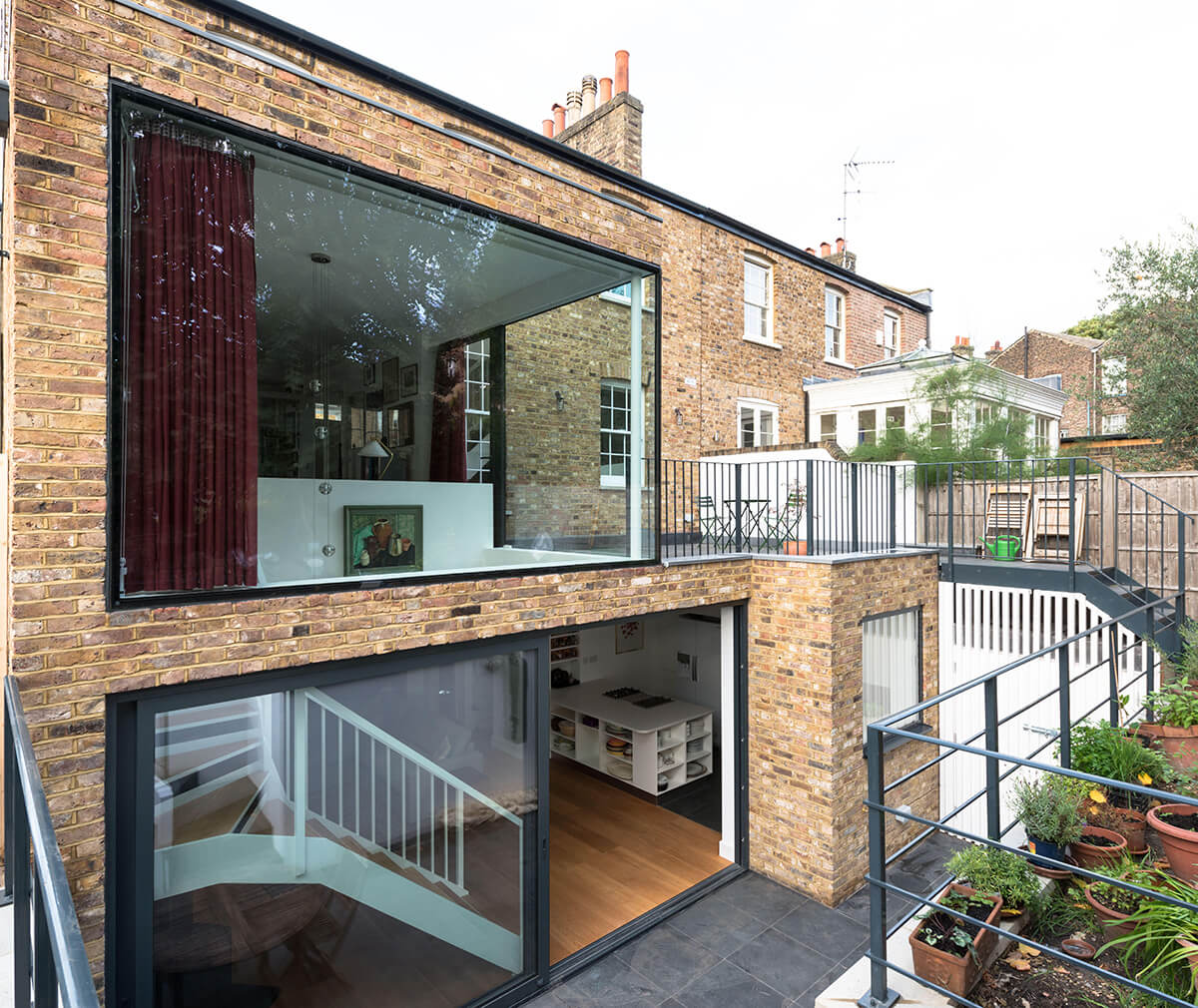 For the extension we were able to follow a more contemporary design, but the conservation area required matching materials, so the same bricks were used but in a completely modern way, bands of brickwork or ribbons framed the large glazed openings and wrapped around the frameless glass to glass corner, floating above the large spans and defying the structural capability of brick. This is in contrast to the brick arches forming the openings on the reconstructed original rear facade.
Interior
Internally, we opened up the space on all three levels to create generously proportioned rooms behind a traditional facade.
The first floor, formerly three poky rooms, is dedicated to the master suite. We removed the ceiling, exposing the pitched roof, which was restructured to remove any visible trusses. The double-height space has a contemporary feel within a traditional envelope, complete with three timber sash windows.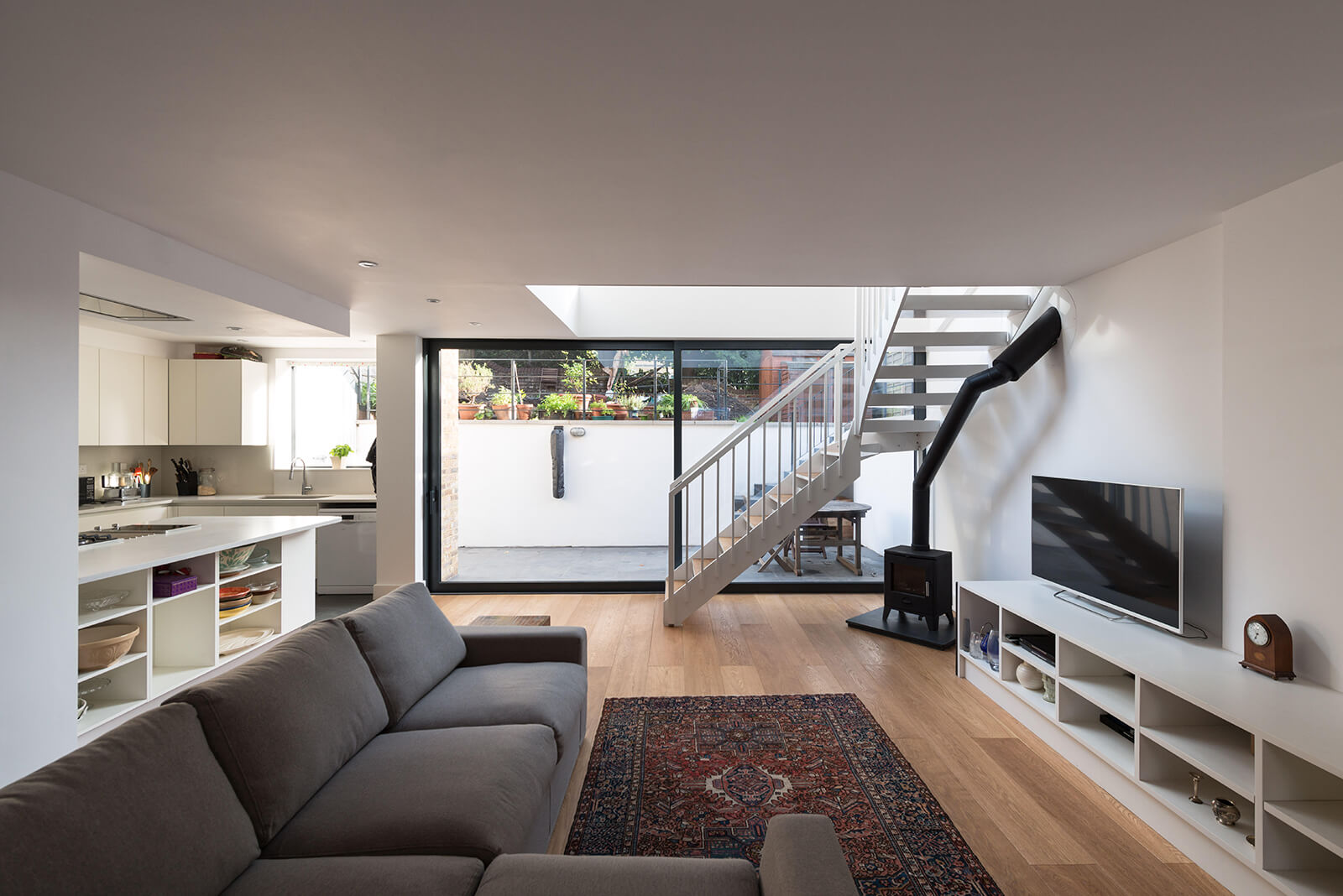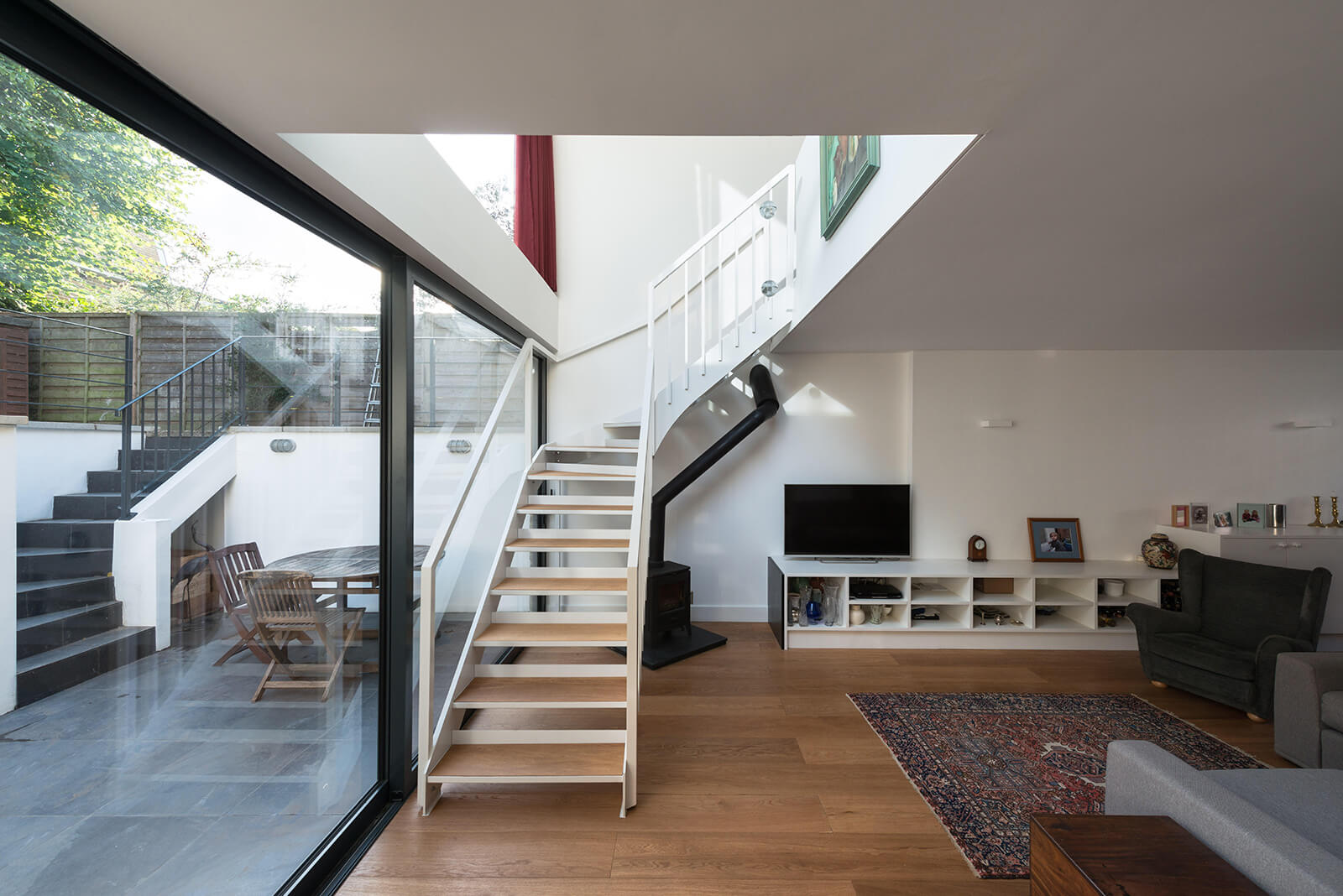 On the ground floor there is a guest room and bathroom and a reception room/study which overlooks the double height void. A huge frameless glass corner window gives open views of the garden.A small upper terrace is accessible from the study. A new steel staircase connects this level with the open-plan living area below. Light pours in to this room from the double height void and, being below ground, privacy is maintained without a loss of splendour.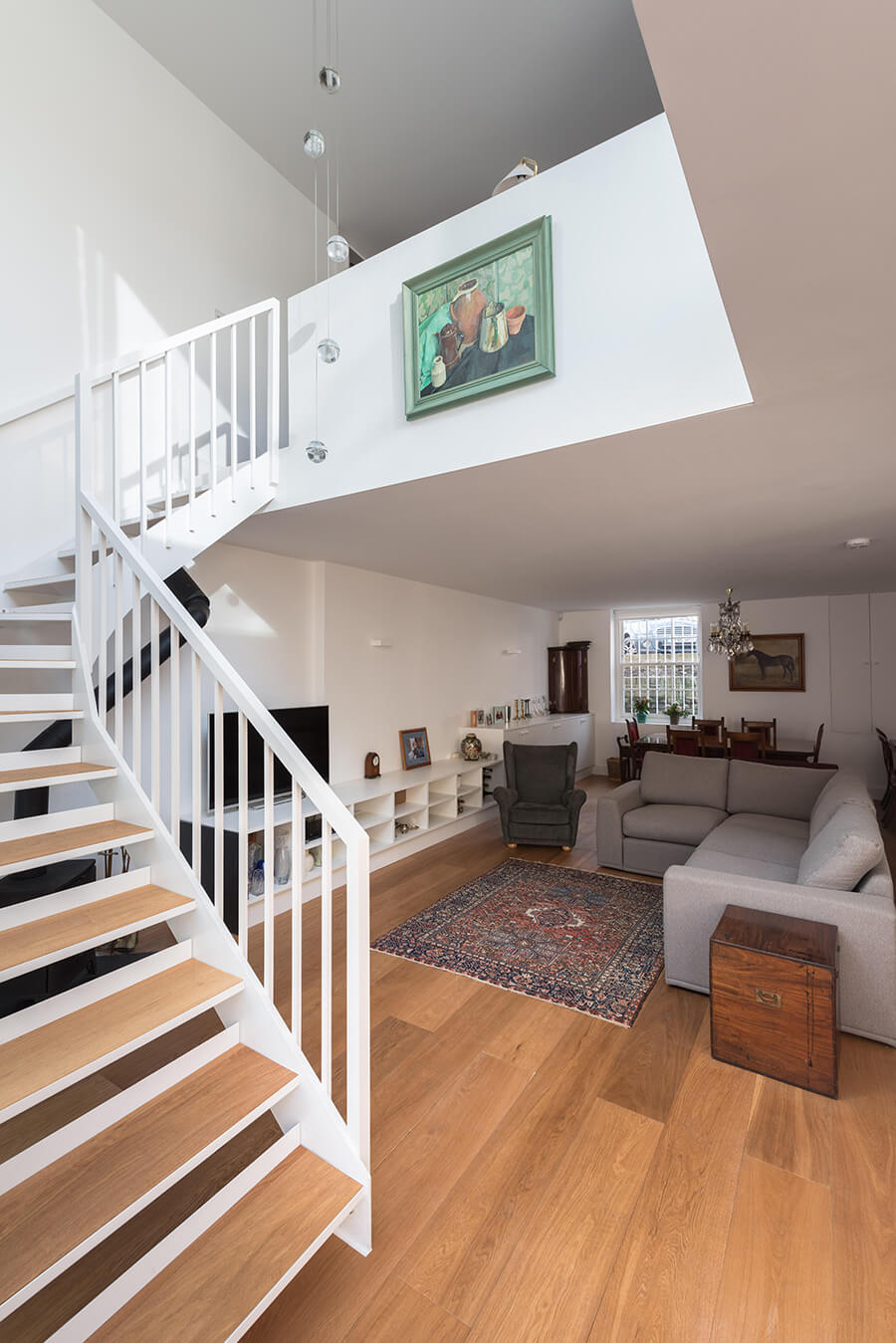 A large sliding door leads onto the lower terrace and external stairs go back up to garden level.