Condo Whale / Studio Arthur Casas
Condo Whale / Studio Arthur Casas
Location
This condo is located in front of Baleia beach, sitting between a large rainforest reserve in the mountains and the Atlantic Ocean. These are weekend houses, with layouts that stimulate social interaction and blend spaces developed through diagonal relations.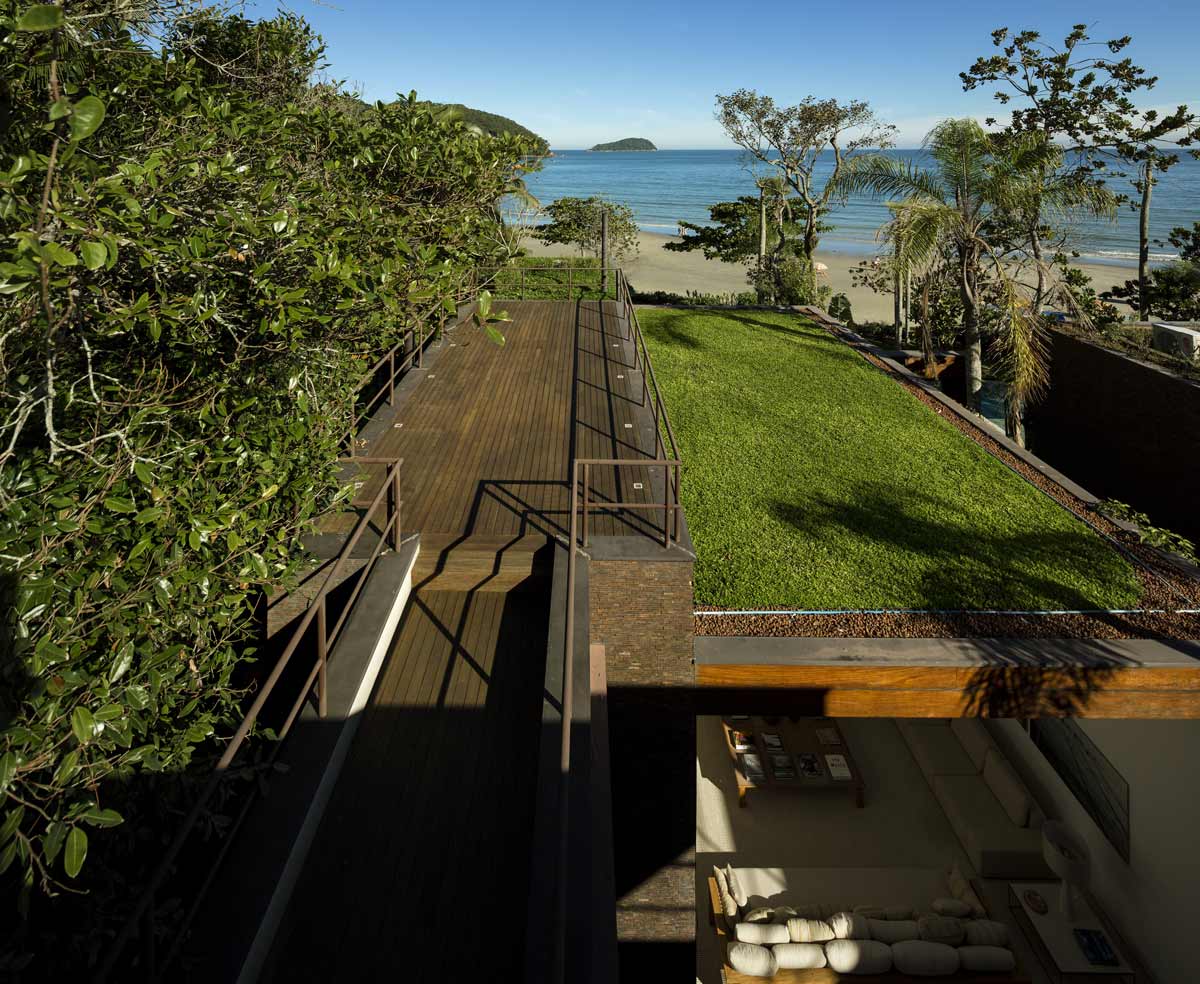 Description
To ensure privacy, each one of the four units was slightly unaligned to follow the axis of the plot. Though near each other, vertical gardens were created to occupy the neighbor's blind walls, transforming visual barriers into small landscapes.
On the ground floor, social areas follow the corridor axis, intercalating openings and patios underneath different ceiling heights to erase the boundaries between inside and outside. This also brings views of the sea to retreated spaces, such as the dining room. In the living room, large glass doors underneath the double height ceiling completely slide outside, eliminating barriers between the inner courtyard and the beach landscape. In front of the sea, a terrace is bordered by an infinity pool above the sauna and by a barbecue area, protected by the cantilever of the first floor.
The stairs are filled with natural light, separated from the corridors by a glass wall that highlights the sculptural character of floating wooden steps and allows the sun to create moving shadows in the circulation spaces of the three floors throughout the day. On the first floor, hosts and guests are placed on opposite sides of the house, assuring privacy to everyone. A small corridor along the courtyard connects the master suite with the other bedrooms, protected by wooden louvers that enhance natural ventilation.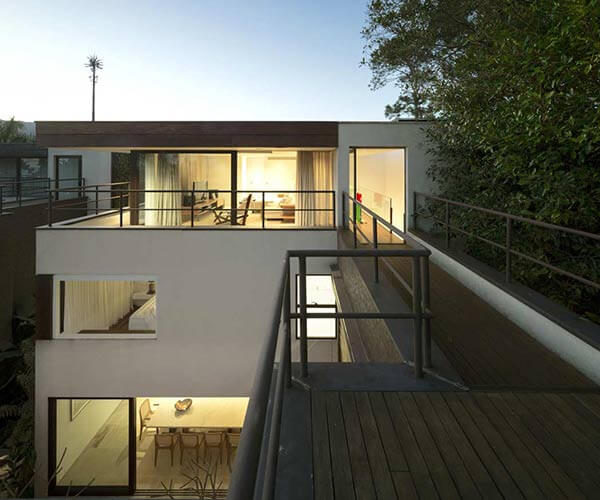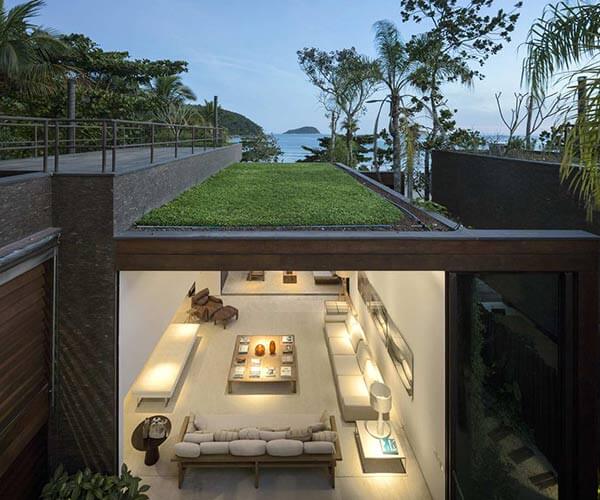 The master suites fusions with the sea through a large corner window sliced through the cantilevered structure. On the third floor, a TV room shares the space with a solarium created above the master suite, enjoying astonishing views of the beach. The rooftop of the living room is planted with grass, bringing to the fifth façade the same concept of transforming residual spaces into gardens, as applied in the side walls. Though neighboring units stand nearby, the architecture seems to disappear amid the greenery.
The section of the house stimulates cross ventilation, avoiding the use of air-conditioning. Materials bring comfort and warmth to the spaces, such as the bricks in the façades and the natural fibers and wood employed on the upper floors.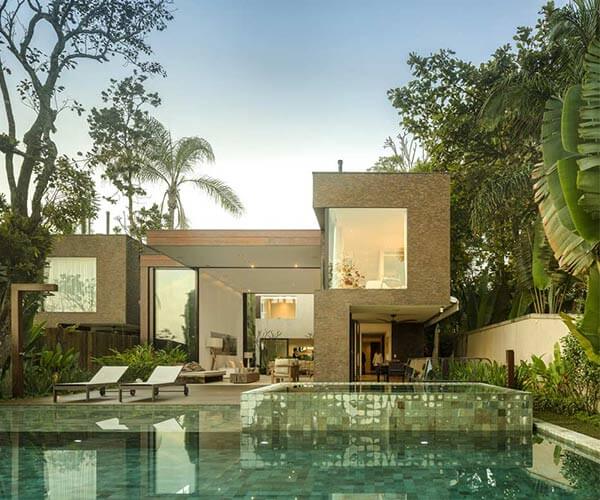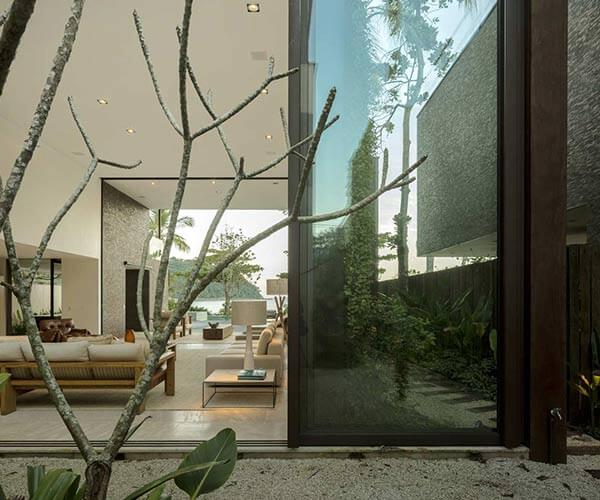 Interior
The interior design project highlights casualty and a Brazilian atmosphere, with furniture by masters such as Sérgio Rodrigues or contemporary designs such as the ceramics table made by the Studio. The client's art collection adds to this blend with pictures by Leonardo Kossoy, paintings by Christian Lemmerz and handcrafted objects from several regions in Brazil.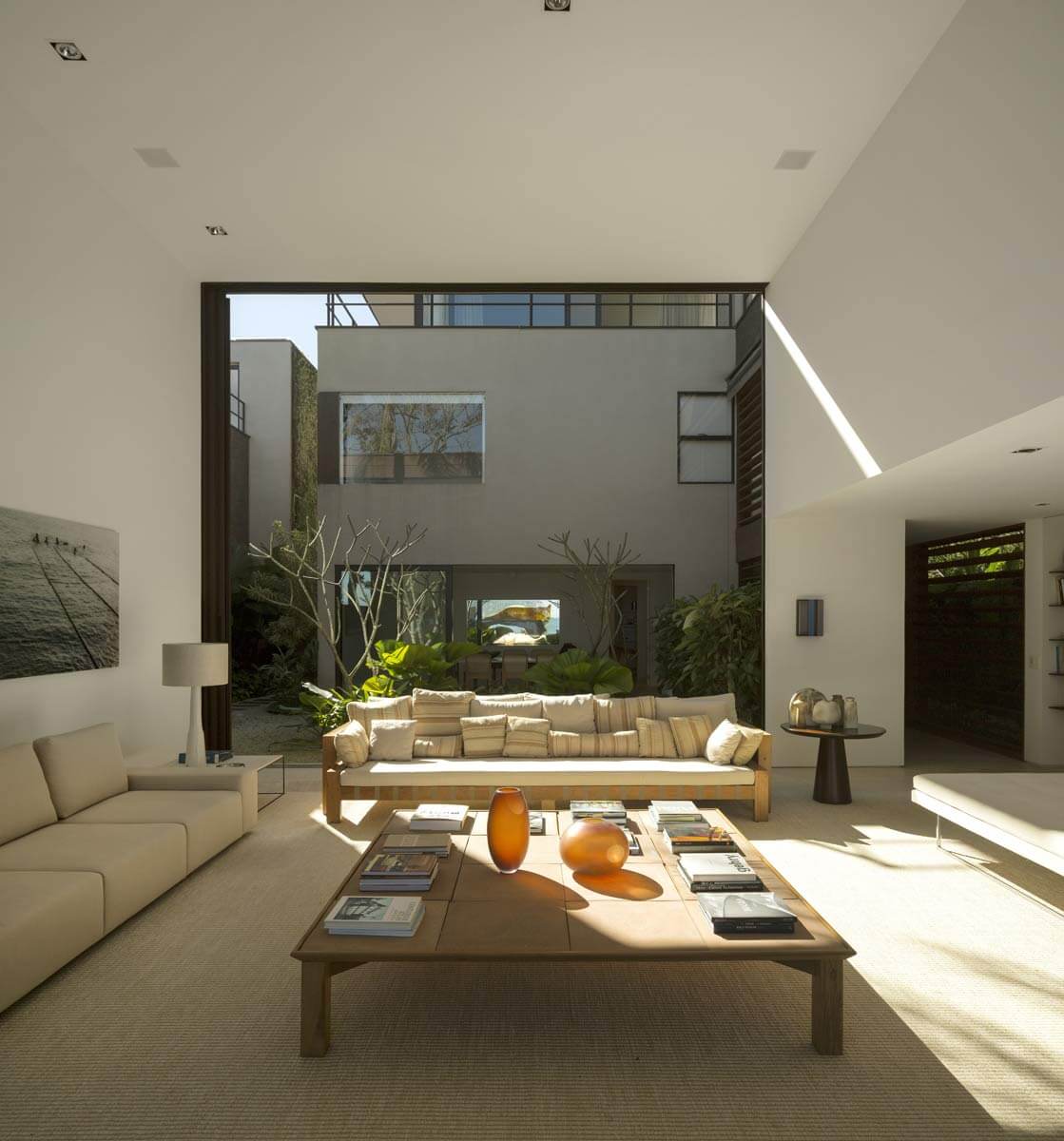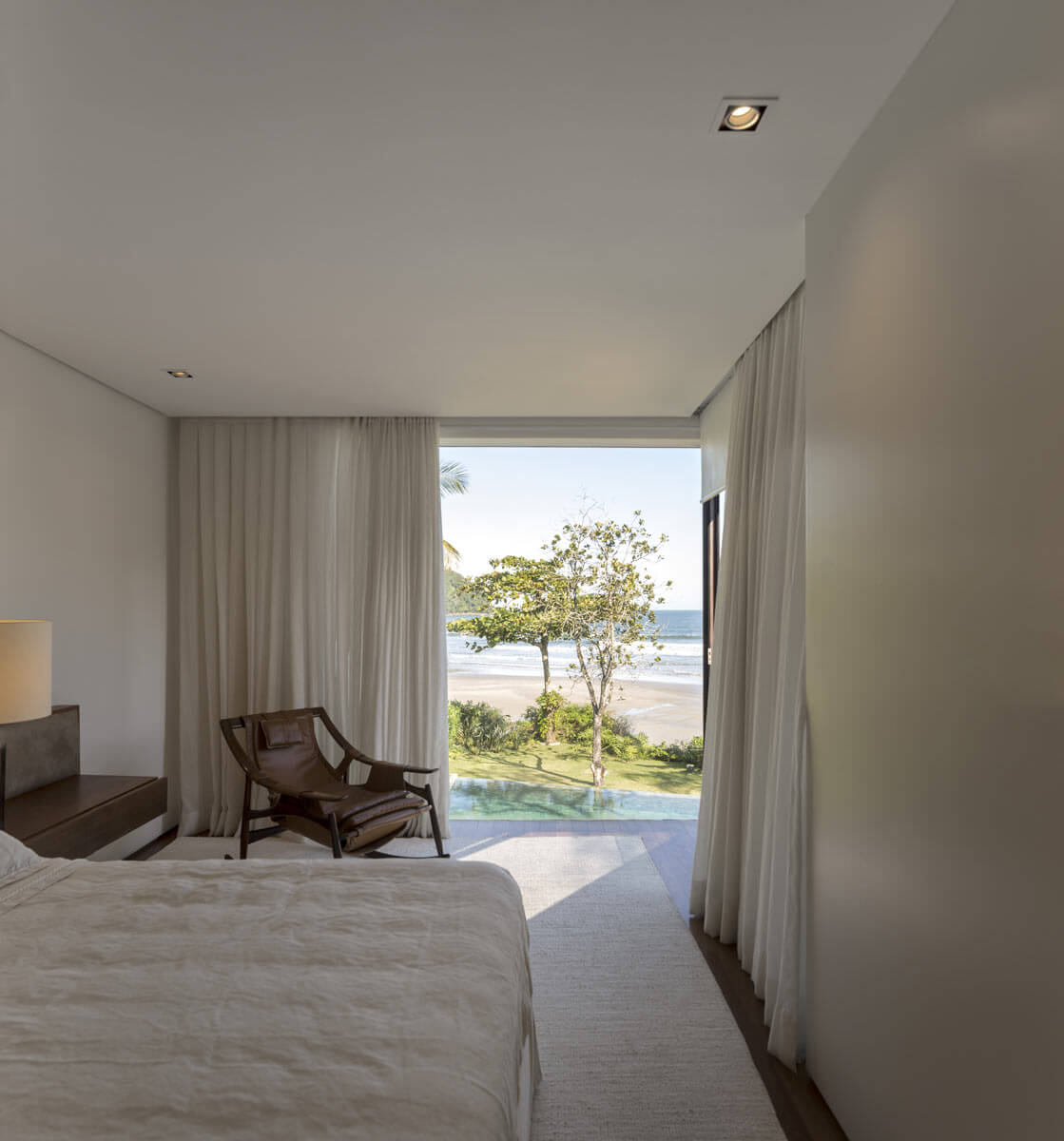 Landscape design
Finally, the landscape design by Gil Fialho explores the immense diversity of rain forest species through compositions that highlight the exuberance of the Atlantic Forest and ensure privacy for each unit.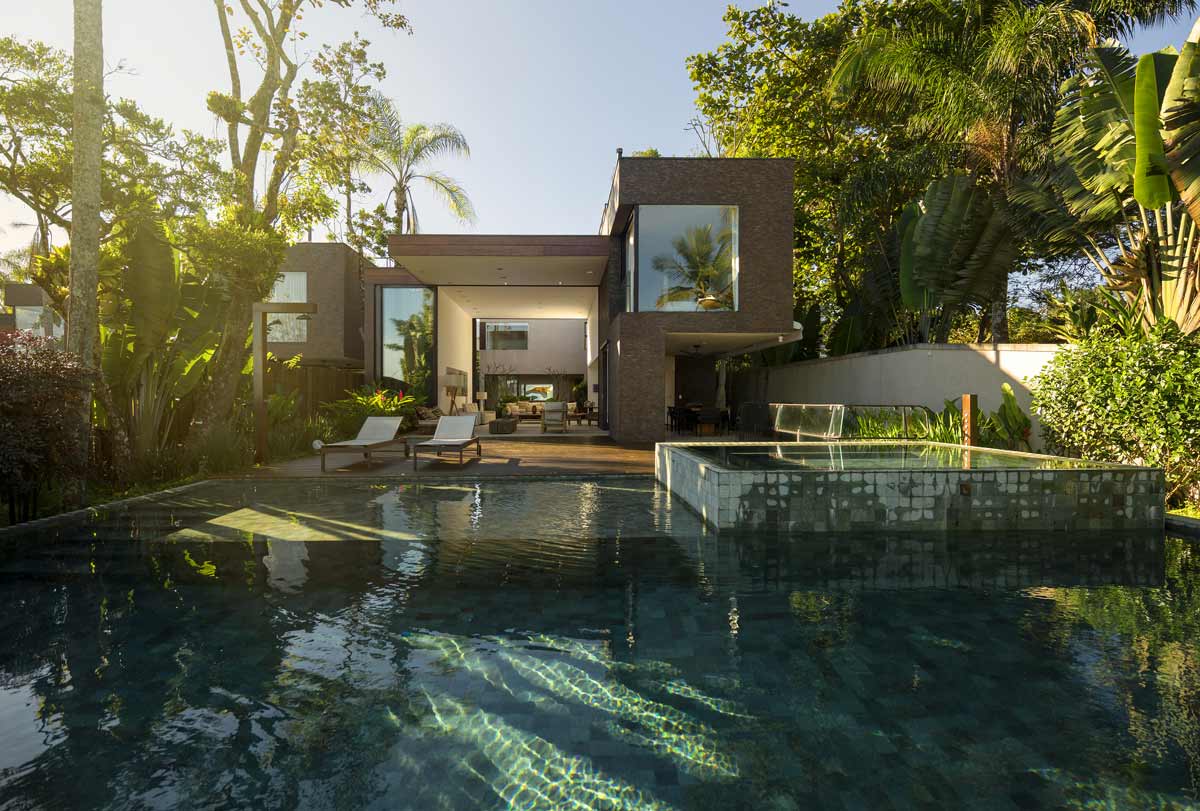 Extra info
Co-authors:
Regiane Khristian, Flávia Castellan Milena Chieco e Renata Adoni.
Contractor:
GD8 ENGENHARIA
Consultants:
Grau Engenharia (MPE Mechanical Electrical Plumbing); Gil Fialho (landscape); Lab Luz (lighting design); BK Engenharia (structural)
Suppliers:
Snaldi (windows); Pantanal (stones); Parque SP (wooden floor); Palimanan (pool finishing); Kitchens (kitchen); Lumini (lighting); Nina Martinelli (facade);
Interior design:
Casual (sofa and coffee table – Arthur Casas); Casa Matriz (sofa); Dpot (Mole armchair); Interni (Vareta lamp); Tora Brasil (coffee table and dining table); Emporium Cortinas (futon and curtains); Arthur Decor (blinds); By Kamy (rug)
Project:
2008
Conclusion:
2012
Total area:
2340m²