Herman Teirlinck Building / Neutelings Riedijk Architects
Changjiang Art Museum / Vector Architects
Description
The Herman Teirlinck building is located on the Havenlaan in Brussels, on the Tour & Taxis site. This historical site is characterised by monumental industrial buildings from the beginning of the last century, giving the new city district a characteristic appearance.
The design deliberately chooses for a low-rise building of six floors set around four green winter gardens. The building thus aligns with the existing heights of its surroundings and especially the roof height of the Royal Warehouse.
The design of the Herman Teirlinck building allows for large horizontal floor fields that are ideally suited for 'Activity Based Working'. The project is therefore very compact and developed with human dimensions in mind. A modest height accent (60m) in the second line gives the project a recognizable character in the Brussels skyline.
The Herman Teirlinck building has varied building volumes that blend into the urban blocks along the Havenlaan in a natural way. The building has a meandering shape, which divides the large volume into several wings of different depths and sizes. This creates organised floor fields of different sizes within which each department can be optimally accommodated.
The use of ornaments, colours, materials and patterns is an important recurring element in the works of Neutelings Riedijk Architects. The idea behind this is that by developing a contemporary ornament, a building can have a strong edge and a expressive character. Alienation and anonymity, often associated with hermetic minimalistic contemporary architecture, can thus be avoided. The ornaments and materials speak to the imagination of the visitors to the building, which can lead to a relationship with their immediate surroundings. This allows the architecture to create its own local identity.
Location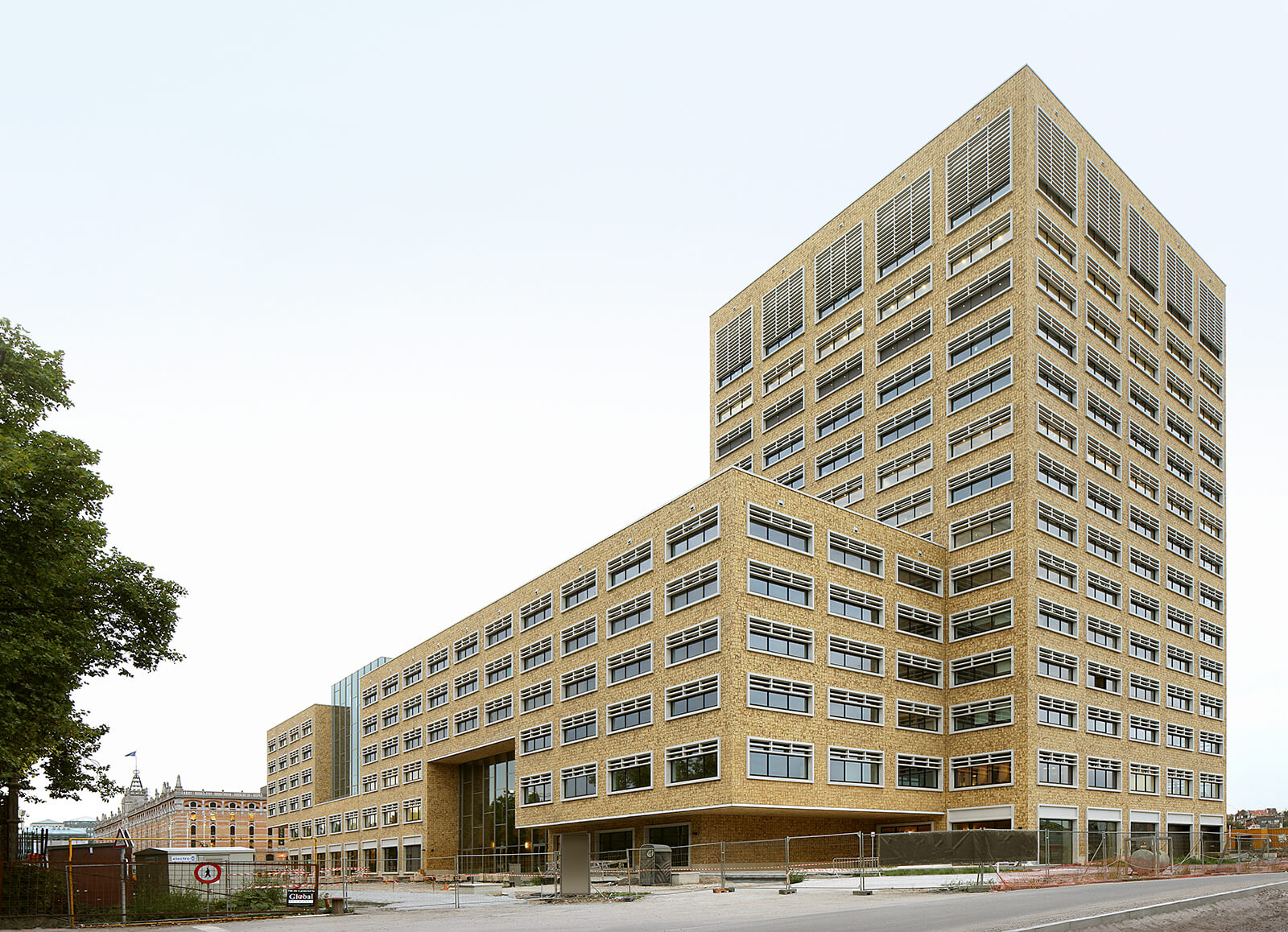 The lot for the Herman Teirlinck building on the Tour & Taxis site is prominently located along the Havenlaan and together with the Royal Entrepot it forms the entrance gate to the Tour & Taxis site. This strategic location and the specific architecture of the Herman Teirlinck building give the Flemish Government its own distinctive and recognisable presence in the centre of Brussels.
Extra Info
Program:
Multifunctional office building for the Flemish Administration open and closed offices according to the principles of 'Activity Based Working'. Occupation of about 2,600 civil servants. Reception rooms, meeting rooms, auditoriums, restaurant, cafeteria, exhibition space, sports facilities, courtyards, underground parking with 300 parking spaces and storage for 200 bicycles.
Surface:
66,500 m² Gross Floor Area
Location:
Tour & Taxis Site, Havenlaan 88, Brussels
Design conception:
May 2013
Start of construction:
April 2015
Acceptance:
August 2017
Architectural design:
Neutelings Riedijk Architects, Rotterdam in collaboration with CONIX RDBM Architects, Brussels and Bureau Bouwtechniek, Antwerp/Brussels
Project Manager:
Dieter De Vos Architects, Brussels
Architectural design:
Studiebureau Boydens, Groot-Bijgaarden Technical
Drawings:
Neutelings Riedijk Architects, Rotterdam
Photography:
Filip Dujardin, Ghent
Giulia Frigerio, Mechelen
Copyright photos:
Neutelings Riedijk Architects, Rotterdam