Muddus / Wingardhs
La Géode / ADHOC architectes
Description
It is rather ironic that "the red building" has become an icon of the Norra Djurgårdsstaden neighborhood. The building was designed in defiance of an explicit directive from the City not to use brick in order to prevent the building from competing with, or even asserting itself against, Ferdinand Boberg's majestic cylindrical gasometers.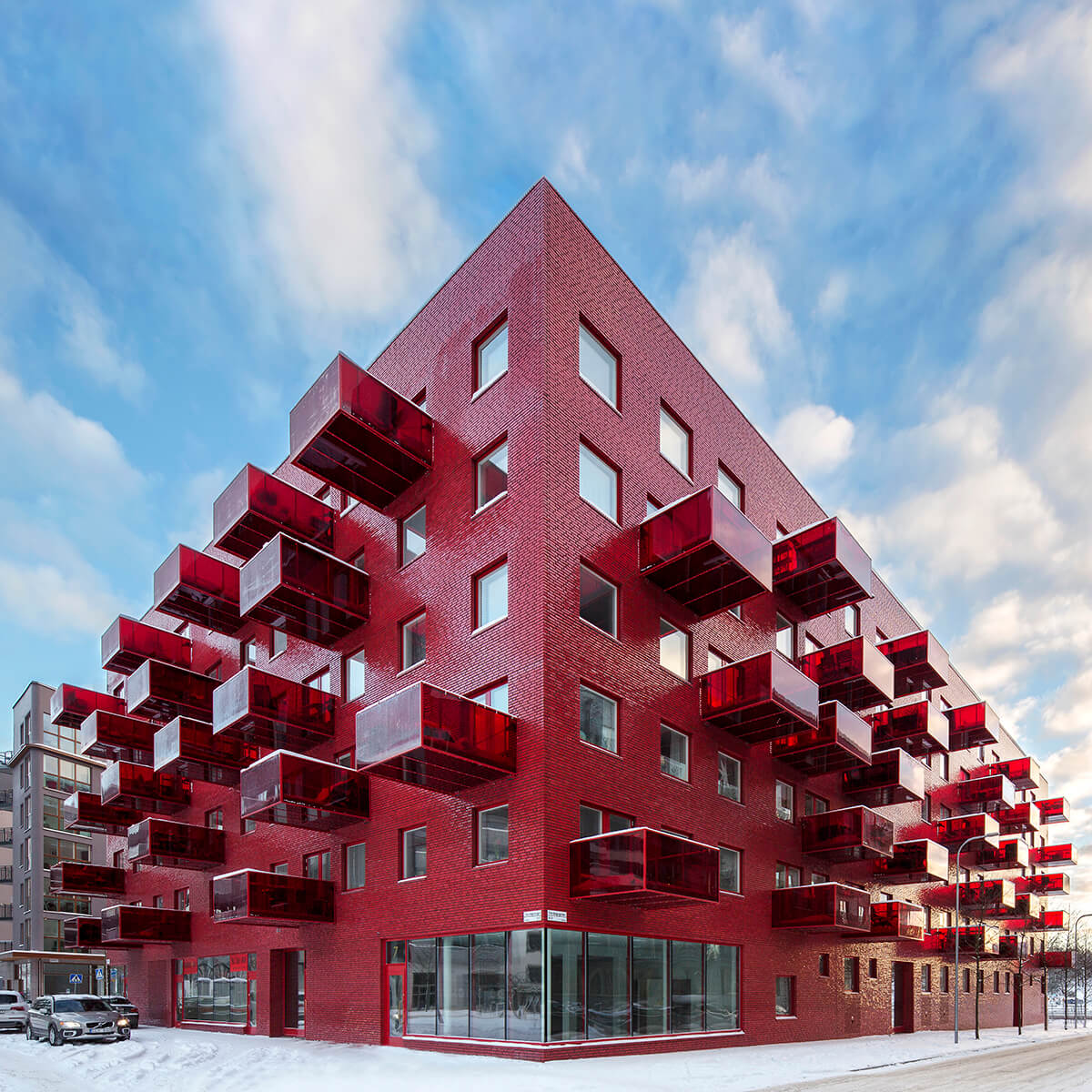 Chalenges
What greater challenge, under the circumstances, than proposing a brick building? Besides, brick is an excellent material for residential buildings. Constructing a building with the most durable of façades is particularly important when the client intends to keep and manage the building. The City and client shared a commitment to green building, and established the goals of meeting the requirements for Silver certification by the Sweden Green Building Council and limiting energy consumption to 55 kWh/m2, which is far lower than building code requires.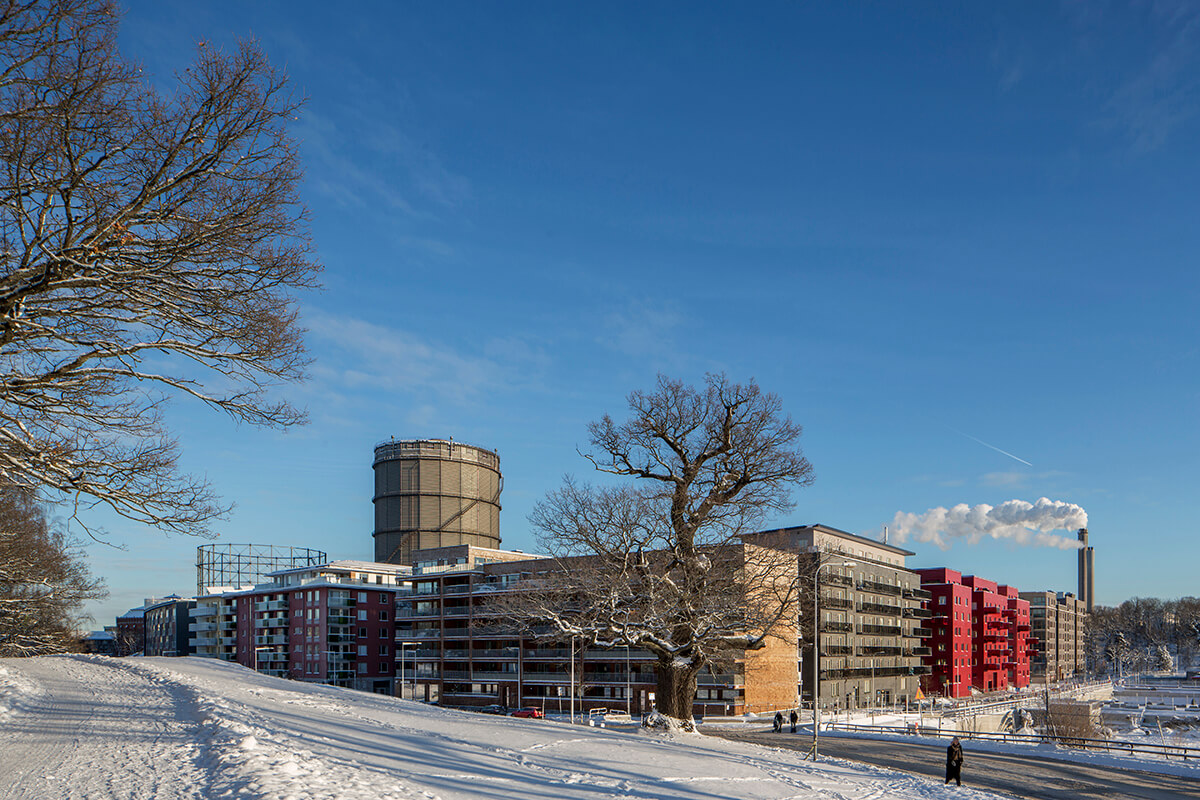 But it was not possible to satisfy the daylighting requirements for the Silver certification because the buildings are separated only by narrow streets and courtyards—it's hard to even meet the demands for basic certification—so the client chose not to certify the building. However, that doesn't mean that semi-enclosed perimeter blocks are necessarily bad. It's just that you can't have everything.
The decision to make the building completely red placed great demands on the choice of materials. Glazed brick is extremely colorfast because the pigment is chemically fixed in the glazing and is unaffected by sunlight. With the narrow color scheme came a beneficial reduction in the range of materials. Brick was chosen for the base, for window and door surrounds as well as ventilation grills and windowsills, where sheet metal would have been the conventional choice.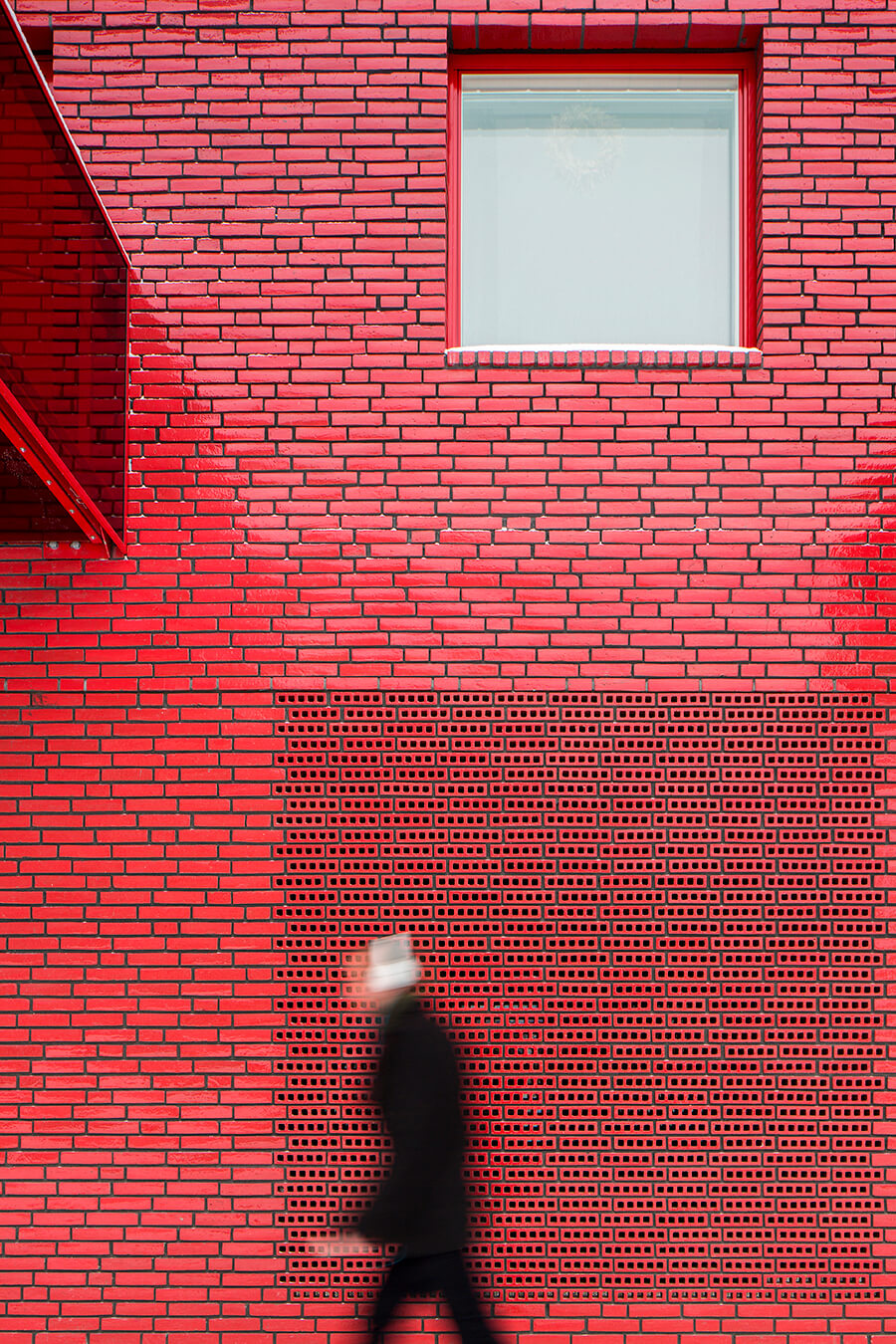 One result of the restricted material palette is a rather salutary limit to the number of different window sizes (widths of only 0.9 and 1.5 meters) and a single balcony size (2.5 x 2.5 meters). To ensure that the color on the balcony fronts would be durable, laminated glass with an EVA interlayer was chosen after excluding a cheaper Vanceva film as well as color-through glass. The brick is manufactured at Vesterled Brickworks in Denmark. In addition to the wall bricks in standard Danish dimensions, nine special shapes were made for wall caps, windowsills, and angles. The glazing was done in Sweden at the brick company in Östersund-Brunflo using a glaze developed by Wingårdh Architects and later called Chanel No. 2.