Pavilion for Daelwijck Cemetery / Ingeborg Meulendijks
Pavilion for Daelwijck Cemetery / Ingeborg Meulendijks
Description
In the summer of 2017 a new memorial pavilion at the Utrecht cemetery Daelwijck, designed by artist Ingeborg Meulendijks was opened. The work, entitled 'Dearest', was commissioned by the Municipality of Utrecht. The reason for this was the wish of the municipal team Cemeteries to collaborate with artists in the field of spirituality. Meulendijks designed a small, round pavilion of white bricks that curves around a large oak tree in the cemetery. On the outside of the pavilion there are three man-sized niches with a writing table and chair. Visitors can write a letter to a deceased and then post it in a ceramic niche in the pavilion. There are five mailboxes in the outer wall of the pavilion. An address is linked to the pavilion so that people can send mail to deceased people. The postman will deliver this mail to the pavilion. On the inside of the pavilion recesses have been made for nameplates of cleared graves. A grave is not for eternity. People who were once buried here but also people who were cremated can be commemorated by a ceramic memorial tile bearing the name, date of birth and death.
The pavilion is connected by a path to an accompanying picnic area, made for visitors to meet or rest. The universal symbolism of the tree of life, as well as the writing of a letter, is in line with the context; Daelwijck is a public multicultural cemetery where visitors with different spiritual backgrounds bury, commemorate their loved ones or find a moment of silence under the trees. The Mondriaan Fund awarded this work a generous grant. Ingeborg Meulendijks: "The assignment is special and honorable. The pavilion under the tree is an instrument with a purpose that is actually beyond art. It aims to provide mental, emotional and physical security to the visitor, so that the confidence is supported to put sadness into words.
"Tanja Medema, head of the Cemeteries Team: "The pavilion meets the need to perform rituals to commemorate loved ones and actively invites them to do so. On the one hand it functions as a monument of names, on the other hand as a writing place where you can make a letter or card. By dealing with loss in this concrete and active way - putting feelings and thoughts into words - this pavilion is an instrument to give meaning."
Personal attention and the human touch are in the essence of this building. Everything is handmade and represents a legacy of traditional construction techniques. All wood constructions are made of solid oak and refer to the oak tree in the pavilion. The writing niches, but also the bricks from which the pavilion is built, are handmade from pure white clay. For material research and production, Ingeborg Meulendijks worked from January to April 2017 at the ceramics institute of excellence EKWC and with the specialized St. Joris brick factory.
Why brick?
Craft production
The large oak is the living axis of the circular pavilion… The three walls are made of handmade ceramic stones, the roof construction, writing tables and stools are made of oak and the roof is covered with zinc. "I opt, sometimes against my rational judgment, for traditional techniques, very labor-intensive handicrafts and archaic materials such as clay and solid wood. This is not to actualize the past, but to evaporate any notion of time, to create a timeless architectural place." Meulendijks explains her choice of materials. written by Jacqueline Knudsen, published in Magazine ArchitectureNL no.5 2017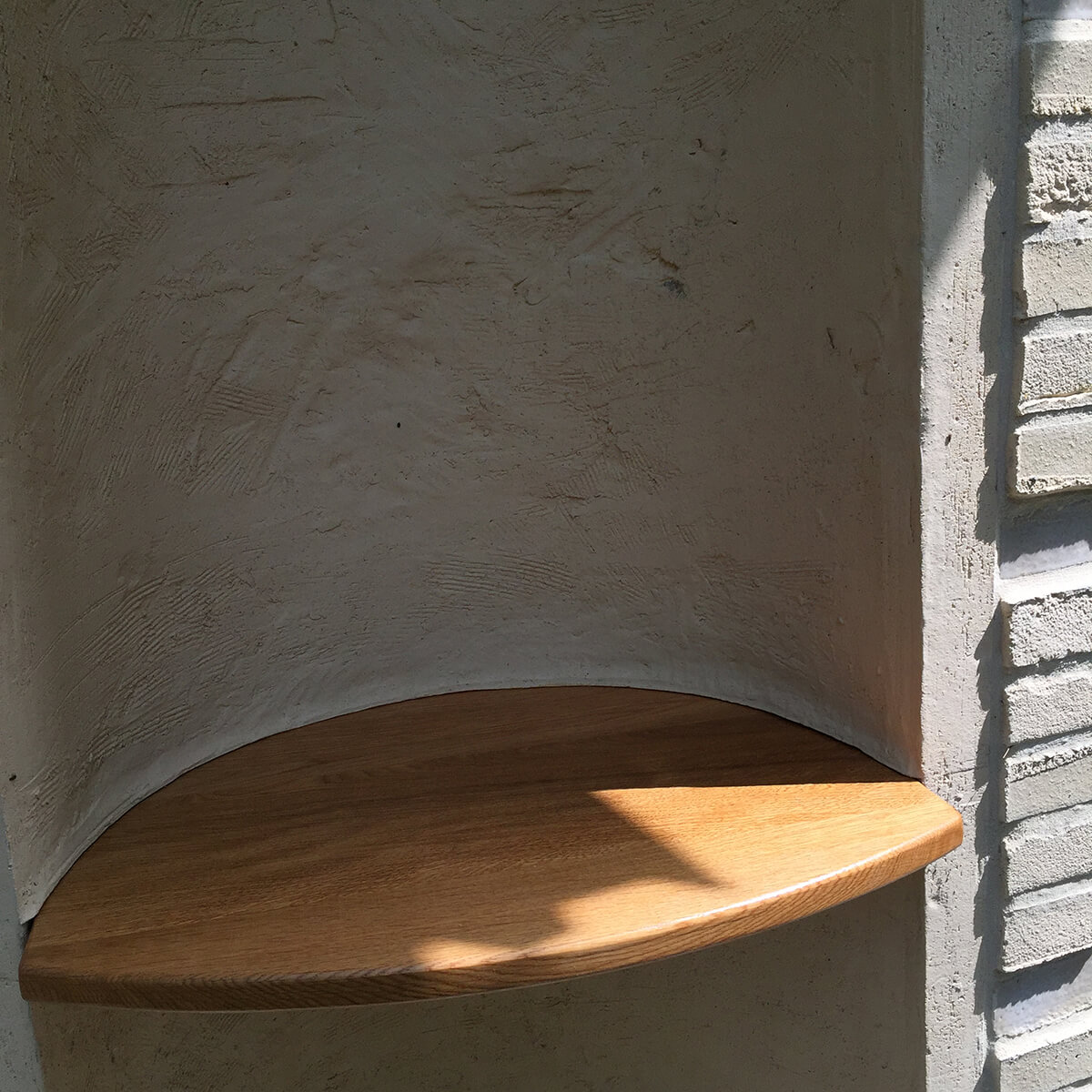 Used materials
These great bricks were used for this project. Neverteless, you can find more great bricks from our partners here: materials.brickarchitecture.com
Producer: St. Joris
Handmade bricks
Clay: Westerwalder, this type of clay has a very low contamination level
Format: Dutch size 210x100x50mm
Glaze: SP-03 / 8 gr