Ying Liang Stone / Atelier Alter
Ying Liang Stone / Atelier Alter
Description
This rehabilitation project converts a storage space into a stone archive to showcase the diversities of stone craft and to create a space for architects to contemplate their designs with stone. As the most primitive construction material, brick and stone come with dignity and authenticity. However, as construction today becomes more visually dominated, stones are usually refined to be light and polished, which often time goes against the rigid and rough nature of the material. This project attempts to propose a critic to modern construction methods, while at the same time striding to satisfy the client's demand to convert the warehouse into a flagship store with both exhibition space to showcase Ying Liang's stone products and contemplation space that would serve to inspire new and creative ways of building and designing with natural stone.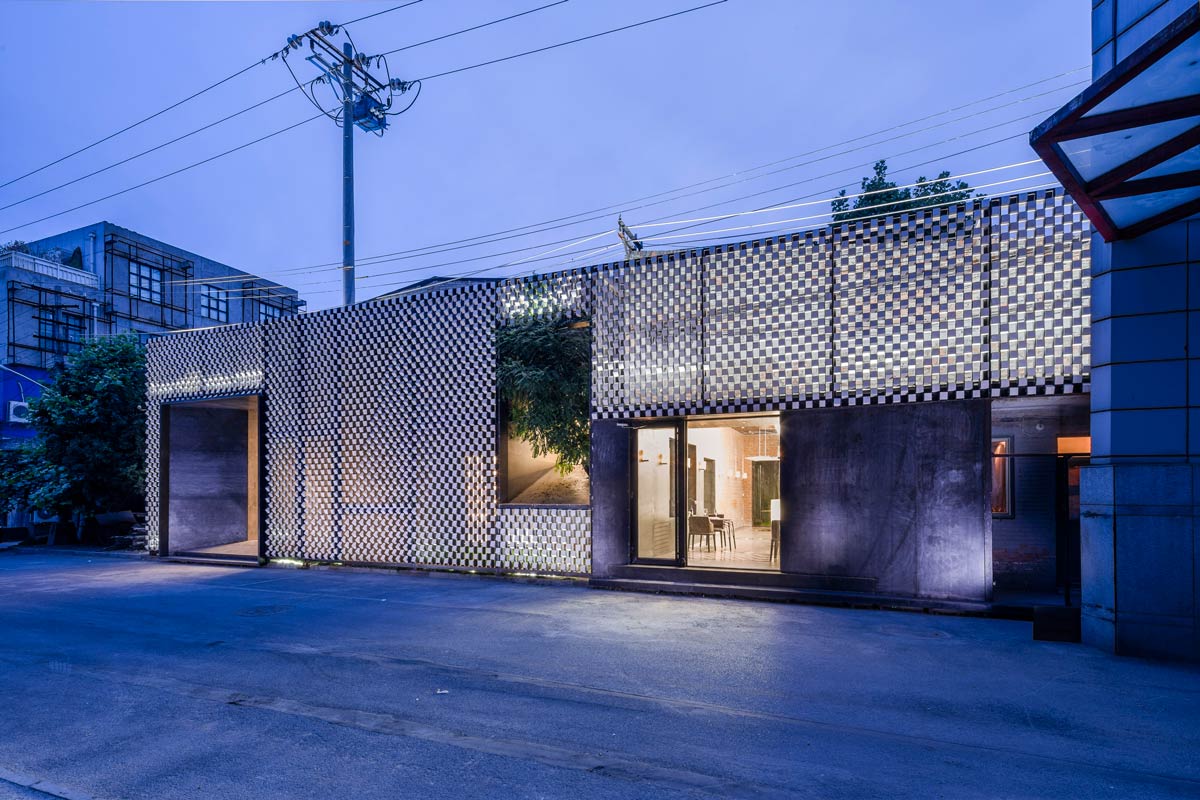 Facade
Our design utilized three layers of stone shelve walls array from exterior to interior to create a narration of stone processing. The stones used in the shelve walls are recycled materials from different stages of stone processing. The first layer that separates the architecture from the street is a perforated stone wall made from thousands of 10cm stone cubes directly cut out of left over scrap stones from the local quarry. The three trapezoidal openings punched through the perforated stone wall function as the main entrance, the clerestory window and the opening to the restaurant. Between the perforated stone wall and existing brick wall, there is a garden that brings light and breeze into the space. The second layer establishes distinction with the existing brick wall and further creates a foyer that guides and directs the visitors into the gallery space. This second layer is an outwards-tilted stone shelve wall made of stacking of mountain skins cut away from dimensional stones. The third layer is a zigzag stone screen wall that separates exhibition space, meeting hall and stone archive within the double story gallery space. The stone screen is made of tiny flag stone slabs slide into the spacing between steel slats. The screen simultaneously and visually connected and separated the double height gallery space from above and from ground level. Flag stone and coffee grey marble are used extensively throughout the project as they are both locally and readily available in various finishes, which best supports our design intentions and our underlying narratives.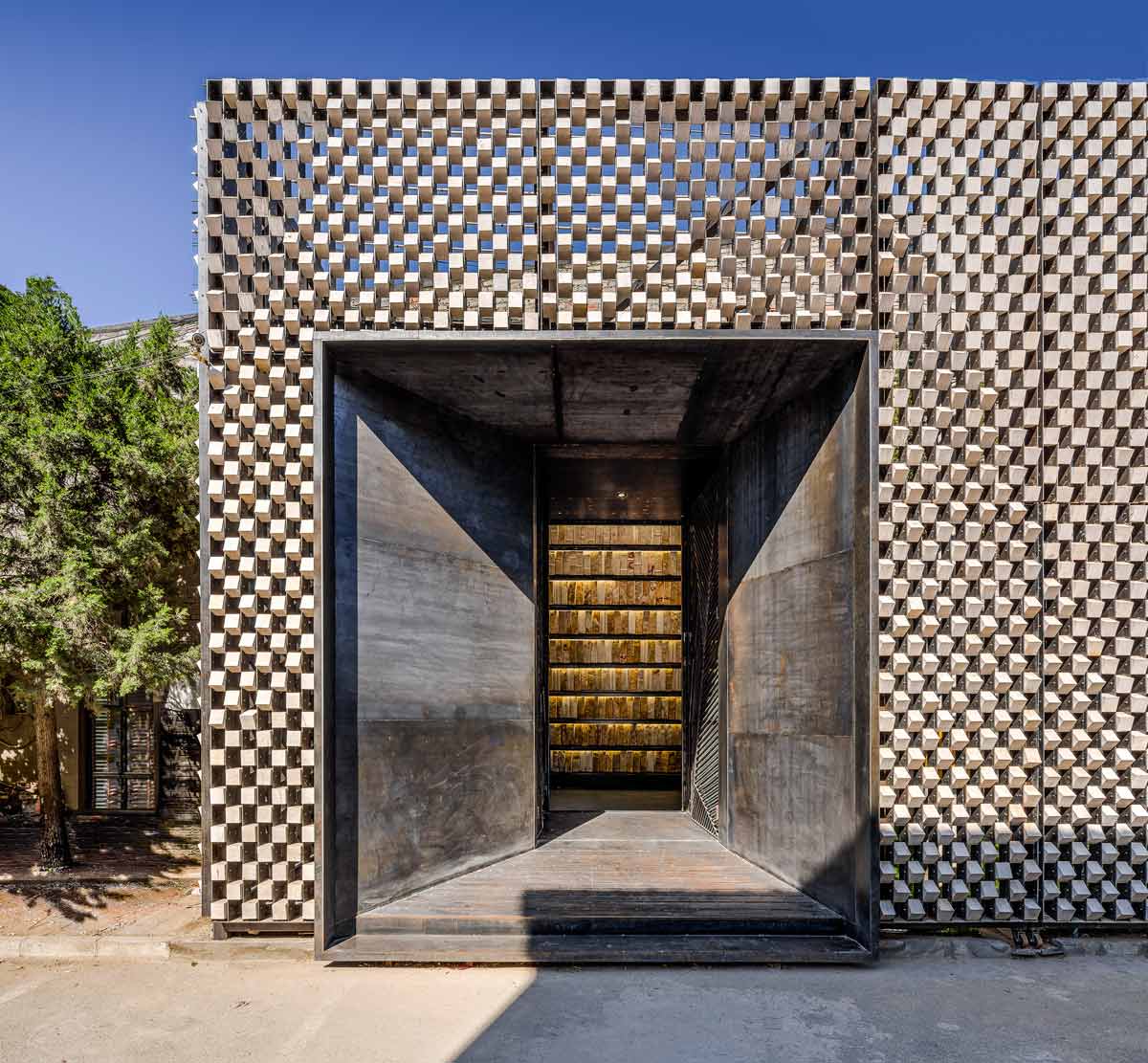 Interiors
As the material processing impacts the internal logic of architecture, architecture also becomes a reinterpretation of the material. Stone becomes the subject but also the background of the show. A small restaurant, a bar and a cafe is placed next to the gallery. The catering space is enhanced by a library and an internal courtyard. The furniture and lighting of the space are designed with polished slabs and super thin complex stone veneers, which represents the finest degree of stone processing. A stone carpet made from parametrically arranged slabs brings the three spaces together while celebrating the countless possibilities of building and designing with natural stone. 
Extra info
| | |
| --- | --- |
| Client: | Ying Liang Stone Co., Ltd., Tian Cheng, Beijing |
| Architects: | Atelier Alter, Xiaojun Bu, Yingfan Zhang |
| Location: | Beiyuan North Qu Winery International Art District F1-1001, Chaoyang, Beijing |
| Design Team: | Kai Qin, Zhenwei Li, Dehu Du, Tongwei Liu |
| Civil/Structure/MEP Engineer | Jie Jin, Zhe Li, Wei Li, Ming Cheng |
| Landscape Architect: | Xiaojun Bu, Dehu Du |
| General Contractor: | An Hui Wan Cong Construction Services Co.,Ltd., Beijing Jingcheng, Yongshun Science and Technology Development Co., Ltd. |
| Stone Supplier: | Ying Liang Stone Co., Ltd., Tian Cheng, Beijing |
| Stone Installer: | Ying Liang Stone Co., Ltd., Tian Cheng, Beijing |
| Types of Natural Stone Used | flag stone and coffee grey marble, etc. |
| Cost: | $427,560 |
| Area: | 472 m² |
| Year: | 2016 |
| Photographs: | Courtesy of Atelier Alter |