Netherlands Open Air Museum / Mecanoo
Netherlands Open Air Museum / Mecanoo
Assignment
Founded in 1912, the Netherlands Open Air Museum is splendidly situated in the rolling landscape of the woods near Arnhem. The museum park comprises forty-four hectares and shows dwellings from different periods and regions. In order to make visiting the museum less dependent on the weather, Mecanoo was asked to design not only an indoor exhibition space, but also an entrance pavilion. In addition, the museum wanted to create a new attraction, the 'HollandRama', a multimedia show introducing the objects to be seen in the park.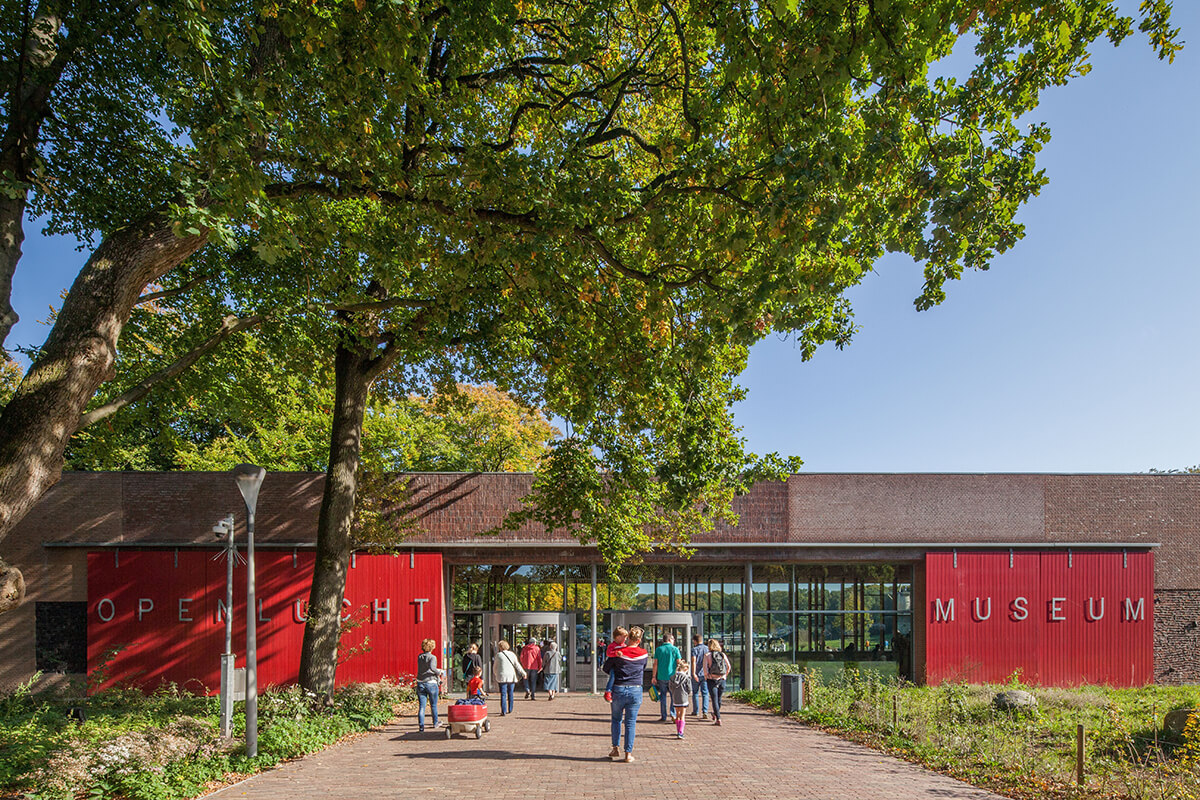 Boulder and a 143 metre long wal
The landscape was taken as the starting point for the design. The visitor is led over a path of recycled clinkers past a mysterious egg-shaped building about 13 metres high. The path of clinkers leads the visitor on to the entrance in a 143 metre long wall cutting across the landscape. The wall is constructed from a mosaic of old cobblestones and bricks and forms the gate to the Netherlands Open Air Museum. Behind this unfolds a spacious, transparent entrance hall with a view of the open meadow of the outdoor museum. Because of the differences of level the hall adapts itself in a natural way to the rolling landscape.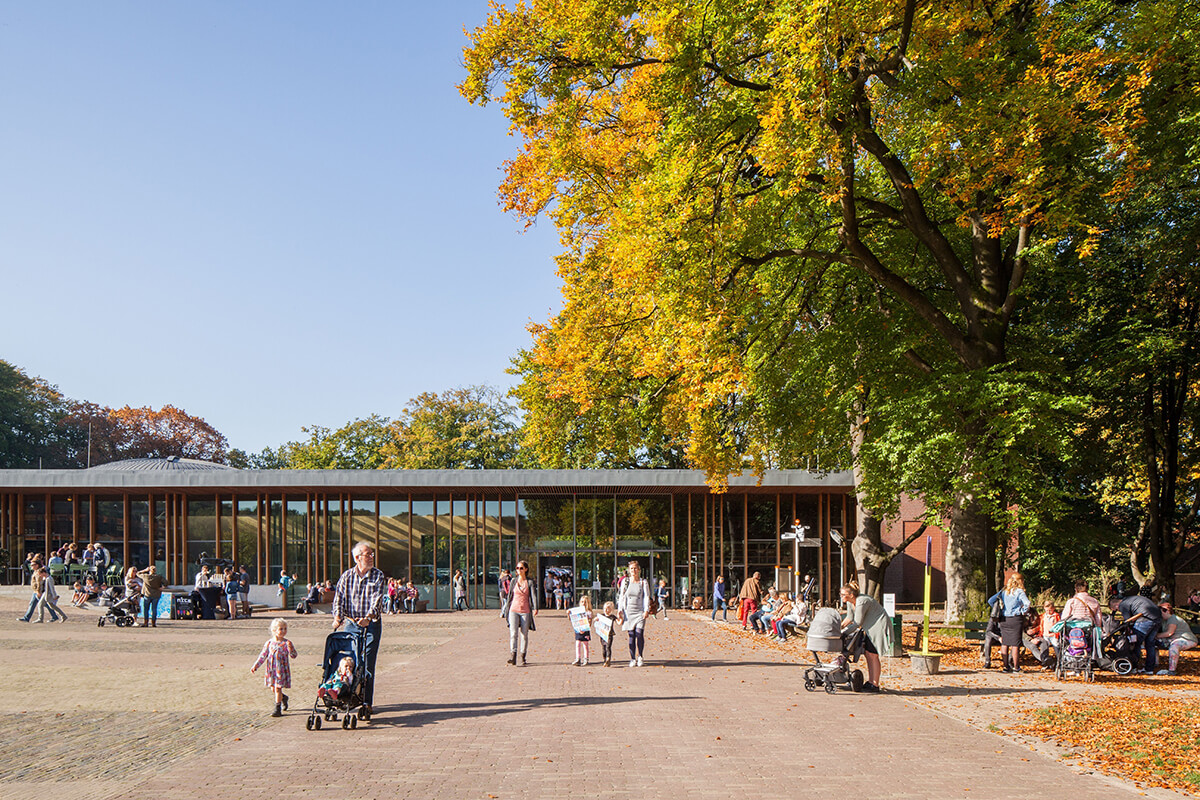 Hinge point
The glass hall is the hinge point in the design. It not only forms the entrance to the park but it also houses various facilities. On the ground floor one can visit the museum shop, the coffee shop, the knowledge centre or the auditorium. A level lower there are two exhibition spaces where changing exhibitions are held and a semi-permanent display of clothing and jewellery from the museum's own collection. The mystery of the egg-shaped building is solved when the visitor enters a tunnel that turns out to lead to a rotating panorama theatre. Here is where the multimedia show takes place. With the aid of virtual reality, animations, film, sound and odour effects, historical objects are brought to life.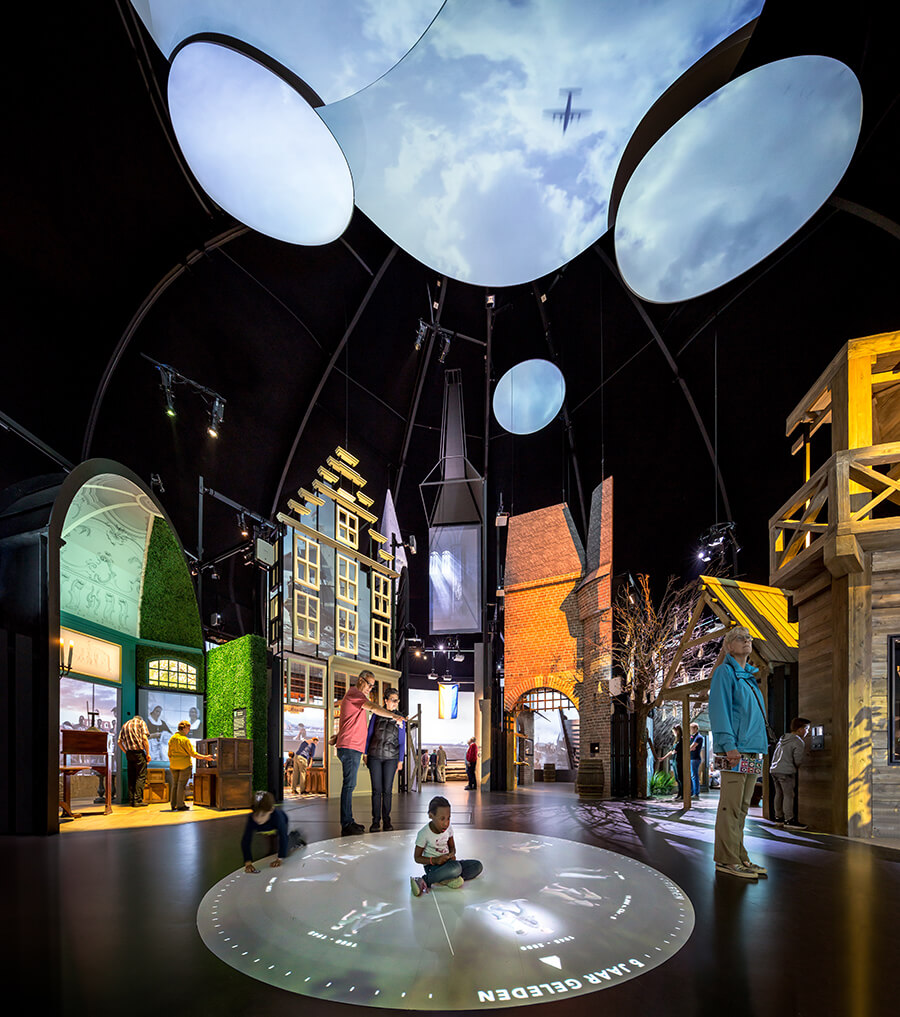 Integrating the Canon of Dutch History
In 2016 Mecanoo was asked to redesign the interior to make way for the Canon of Dutch History. The Open Air Museum looks at the history of ordinary people in the Netherlands. This will be linked to key aspects of Dutch history, including the Dutch East India Company and Michiel de Ruyter, as well as the First World War, slavery and child labour. Inside the museum park's historic buildings, and through a striking exhibition in the entrance pavilion, the museum is shining a light on the Dutch history 'from an everyday perspective', covering the fifty topics that make up the 'Canon of Dutch History'.