Rural low energy house / Atelier Tom Vanhee
Rural low energy house / Atelier Tom Vanhee
Description
The former farmhouse is situated in an agricultural area in the east of the municipality of Aartrijke, Belgium. The typology of the existing building is used in a contemporary way to enlarge the dwelling. Two new volumes with a pitched roof were added against the existing volume. Two chimney shaped skylights create light and a view on to the first floor. A third chimney houses the air outlet of the heat pump. Old and new collaborate together, but both remain visible. The new volumes are finished in wood. The old brick exterior can be experienced inside when entering the house. The new staircase is a reminder of the old mouldering one, which was removed. The buttresses and strips of brick in the floor show the former layout of the barn. The double height in the dwelling makes the living areas more spacious. A new pre-weathered zinc roof connects the buildings into a whole. Photovoltaic panels are implemented in a sober way in the zinc roof.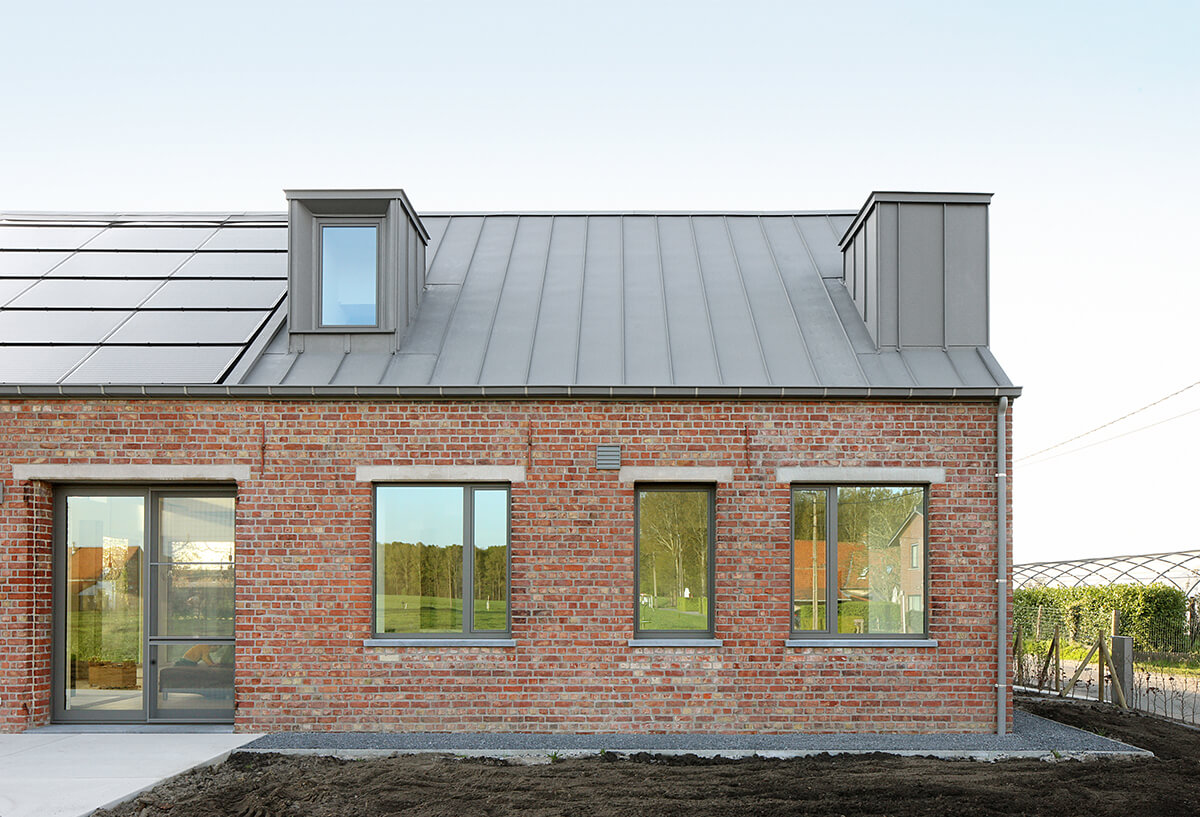 In addition to the replacement of the old joinery with new windows, the old volume opens up to the landscape on the rear side. The construction is characterized by simple uniform windows according to the golden ratio.
Interior
The former building contains the dining room and sitting room, the kitchen, a storage room and toilet, four large bedrooms and two bathrooms. The extension accommodates the entrance hall, circulation spaces, storage space, technical facilities and a garage. The wall between the garage and the entrance hall is a gypsum plasterboard wall and is easyly changeable. So the garage can be converted to an office space and the entrance hall can become a waiting room with an additional toilet.

Energy saving
Both the former building and the new buildings are properly insulated (retaining the exterior brick wall) to create a low energy house. The house is mainly heated by an air-water heat pump with low temperature floor heating and radiators. Photovoltaic panels mainly supply the electricity need. All details are designed and implemented airtight.