Vassall Road housing / Tony Fretton Architects Ltd
Vassall Road housing / Tony Fretton Architects Ltd
Location
As in many parts of inner London, the district in which the building is situated was developed as an 18th century suburb with houses of some dignity. Opposite are paired villas with large windows in brick facades, further down the street an array of cottages and small houses facing a wide stone pavement. For sound reasons the side of the street where the building stands was rebuilt in the early 1960s as well composed brick social housing, to which later and for less sound reasons, plastic framed windows and pitched roofs were installed. In a deal between our developer client and the social housing association we designed apartments for sale on a piece of land in the social housing estate facing Vassal Road, with a Doctors' Clinic on the ground floor. All of this reflects the present prevailing mood in the UK for market lead solutions and its lack of coherent collective symbolism. It was the latter that is addressed in our scheme.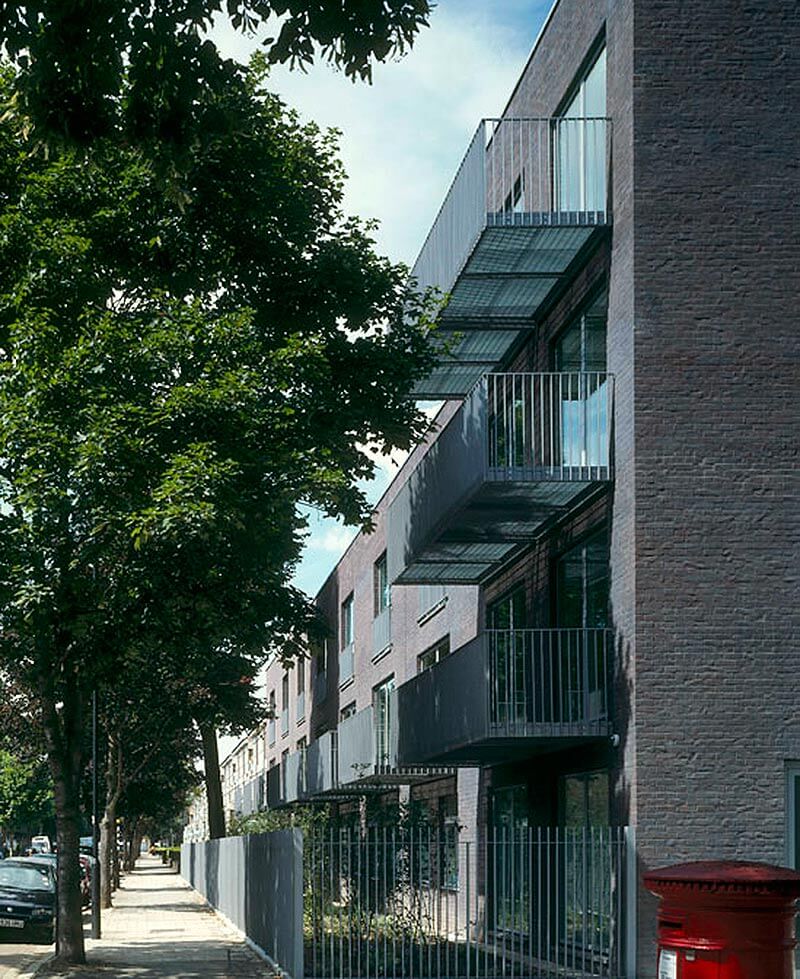 Description
Apartments in our scheme are scaled to appeal equally to small families, retired couples or single people working from home, and are designed to be a community within the neighbourhood. In design the building presents itself as a formal terrace within a railed garden, consisting of the doctors' surgery as a base and duplexes and a corner tower of apartments above it. Windows and balconies at the first floor are a response at a smaller scale to the villas opposite, and the brick facades are lightly over-painted with black mineral paint to simulate the aged quality of the brickwork in the locale. An entrance lobby in the side leads up to an open air walkway behind the building, along which are ranged patios that provide the entrance to the duplexes and an informal place outside the kitchen in which to eat. Together these elements give a place of potential sociability, while the balconies to the street, facing south over the garden and into the trees, give connections to the wider neighbourhood.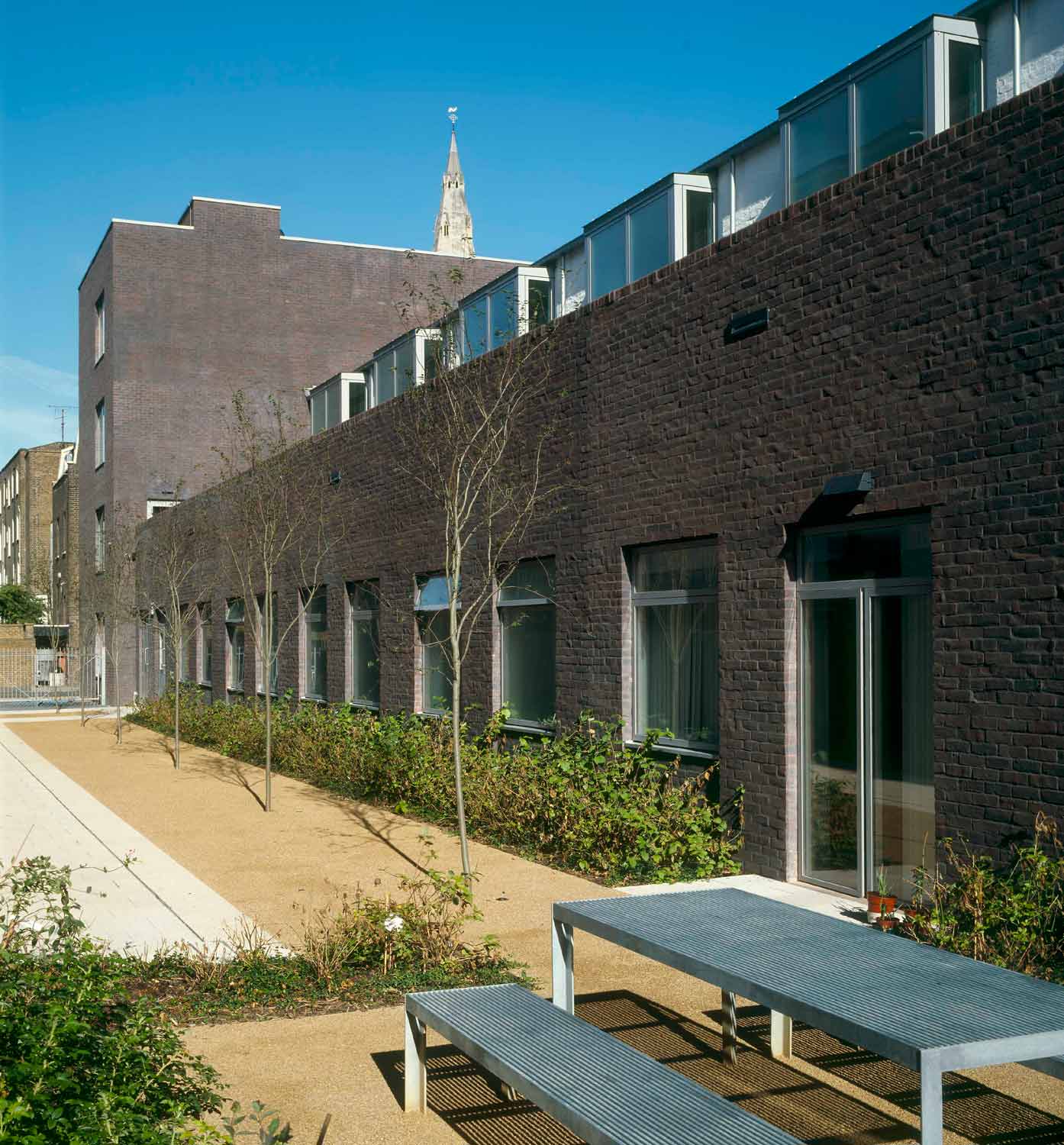 Building Material
The building is built of an English, handmade, clamp fired, red brick [Rudgwick Red Roughs]. The brick is overpainted in a thin wash of black mineral paint [Keim]. The roof is of standing seam zinc coated aluminium [Corus Falzinc.]. The windows and rooflights are composite timber and aluminium [Velfac / Velux]. External metalwork is painted in micaceous iron oxide paint.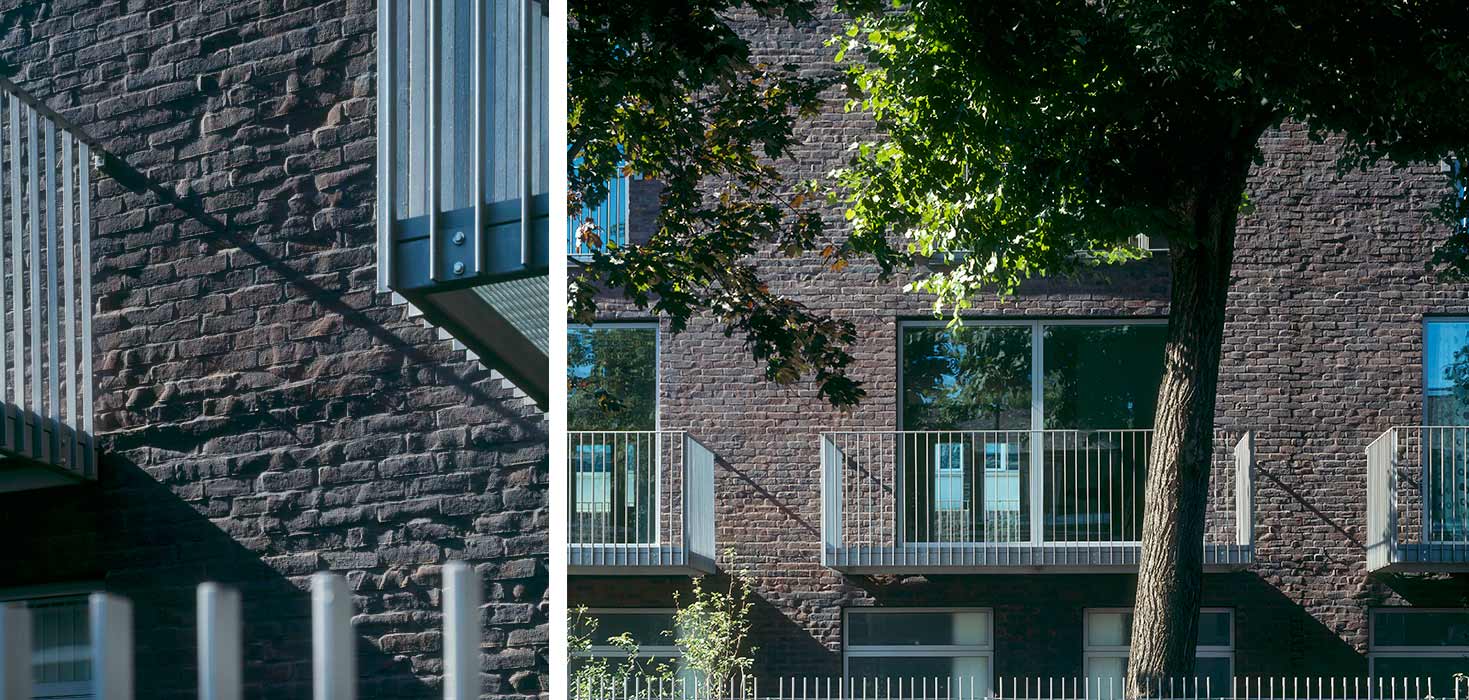 Building Construction
To allow planning flexibility the ground floor of the building under the maisonettes has a steel frame supporting a deck of precast concrete on top of which the residential units are constructed with traditional brick and blockwork party walls. The external walls are in load bearing masonary. The flats and surgery below are all traditional construction.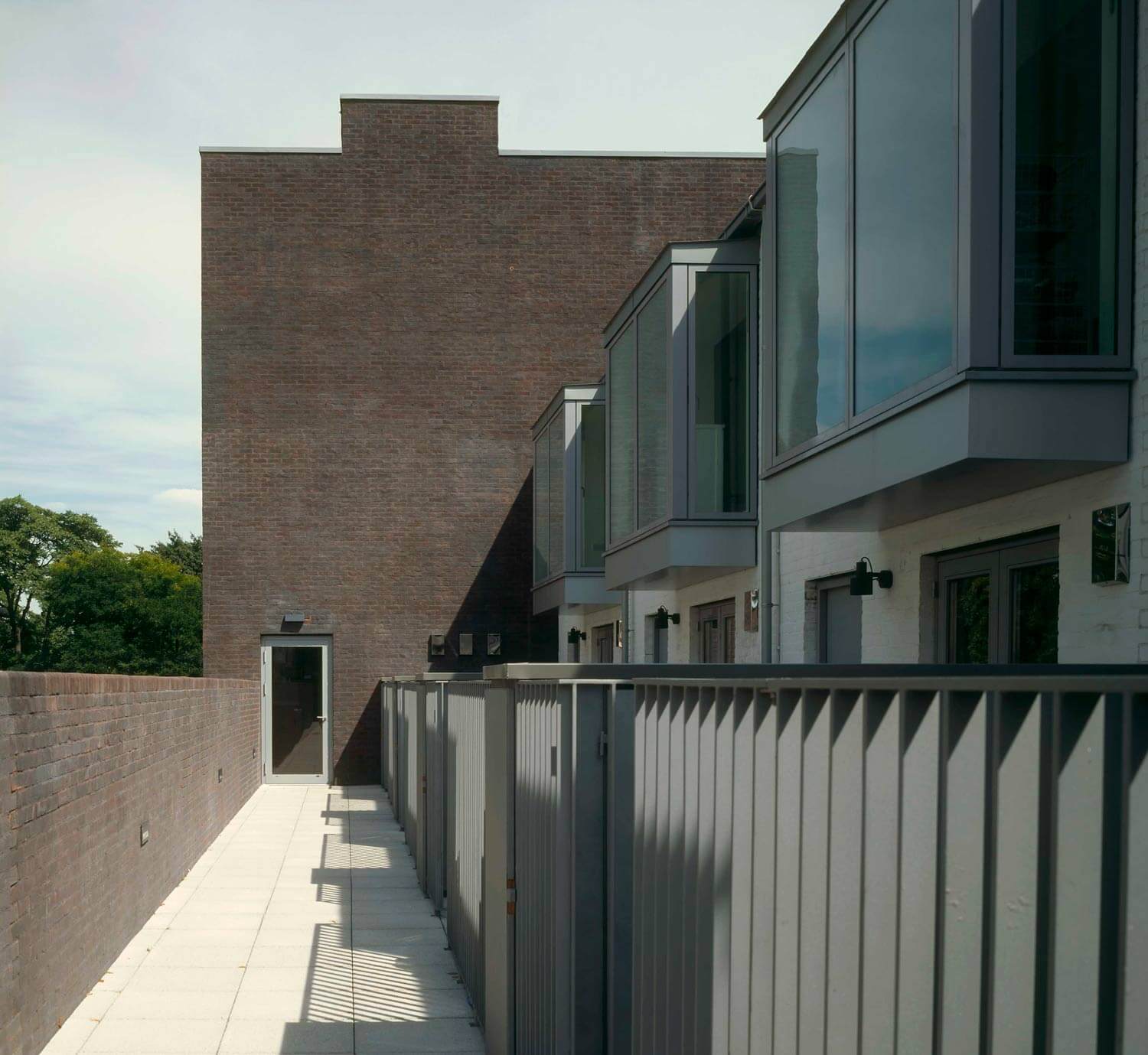 Interior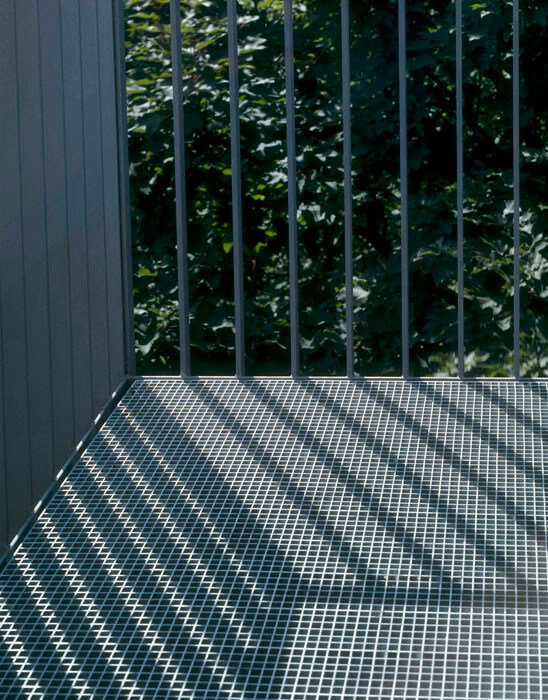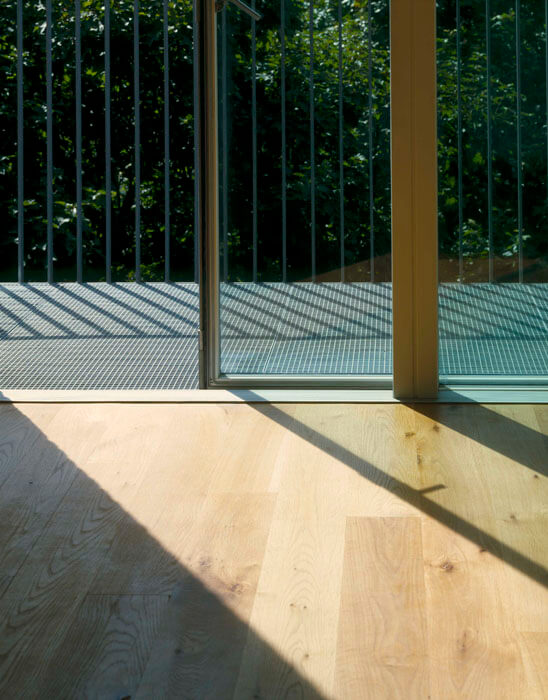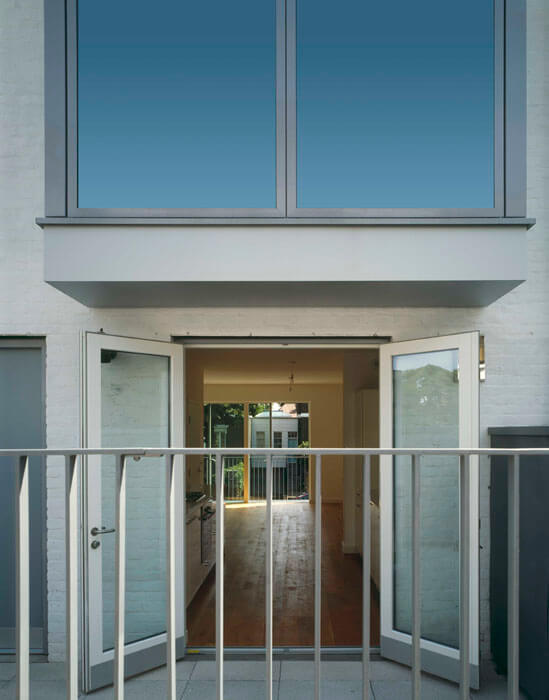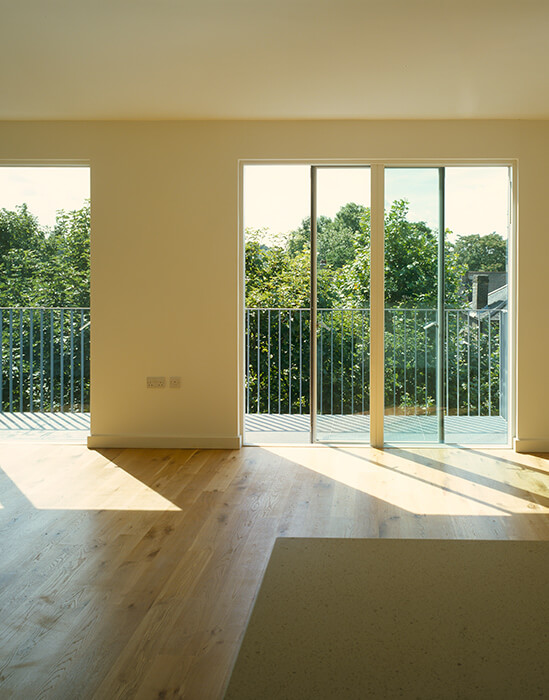 Sketches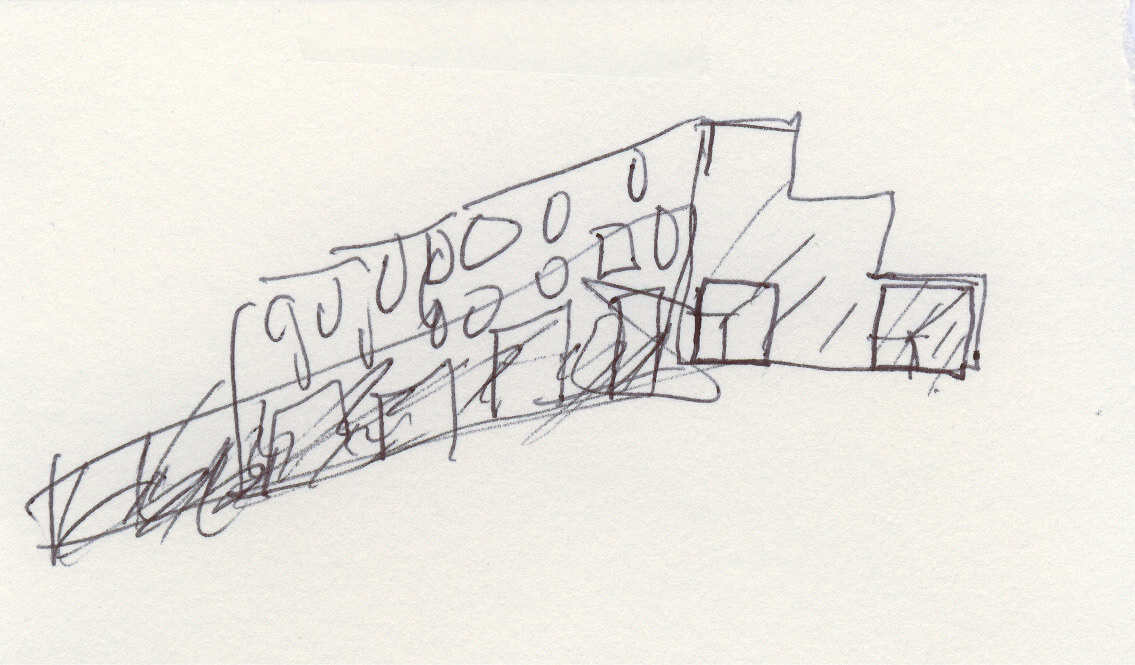 Drawings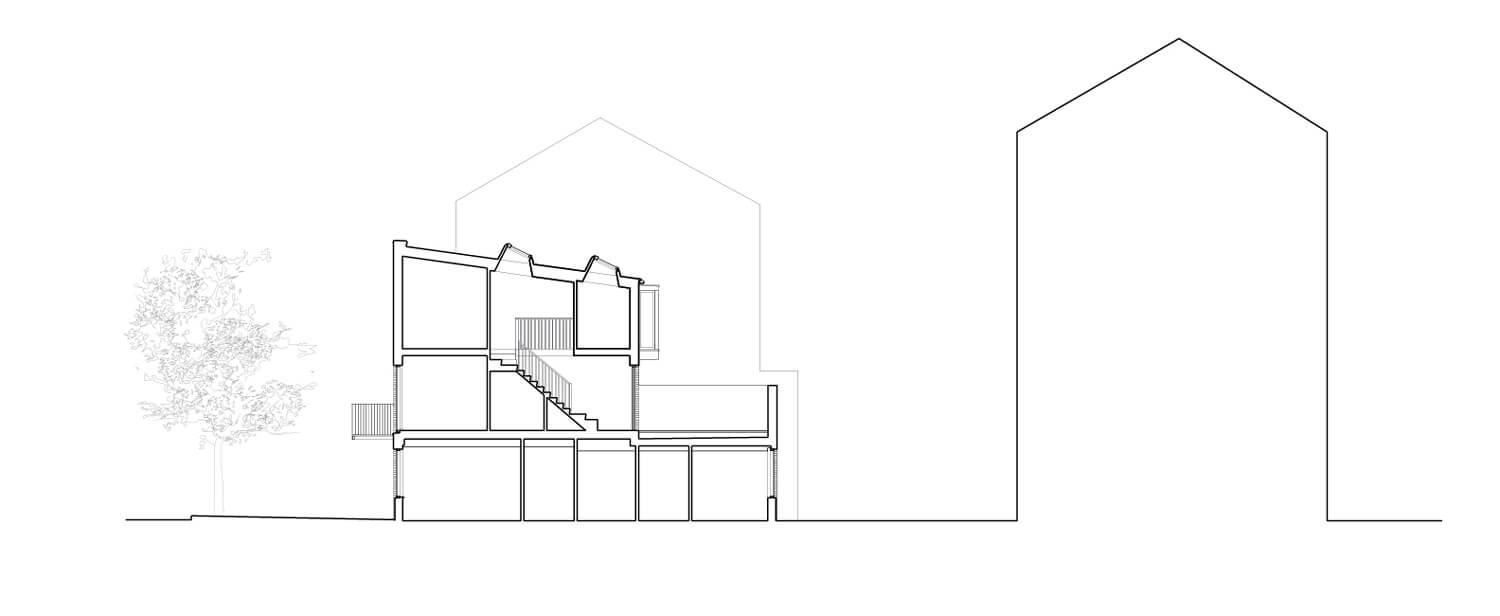 Extra info
Client:
Future Living Space Ltd No.90428. Future Living Space Ltd (Servite & Baylight)
Site area:
1190 sqm
Design Team:
Tony Fretton, Jim McKinney, David Owen, Michael Lee (Project Architect), Simon Jones, Annika Rabi, Sandy Rendel, Nina Lundvall, Matt Barton, Max Lacey
Project Architect:
Michael Lee
Structural Engineer:
Jampel Davison & Bell
Services Engineer:
Bailey Associates
Quantity Surveyor:
Smith Turner
Landscape Architect:
Schoenaich Landscape Architects Ltd
Main Contractor:
Concentra [formerly Durkan Pudelek]
Project Manager:
Jim Green